PLASTICS AND ENVIRONMENT
UN establishes global plastics waste prevention group / Marine litter reduction the goal
A new public-private partnership launched recently by UN Environment Programme (UNEP) aims to establish international guidelines for environmentally sound management of plastics waste across international, regional and national platforms. Essentially, the secretariat of the UN's Stockholm, Basel and Rotterdam conventions, which are charged with regulating international movement and handling of waste and hazardous chemicals, will focus on preventing discharges of plastics waste and microplastics into the environment, in particular fighting the growing problem of marine litter.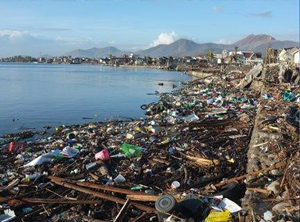 A new global partnership aims to battle plastics waste in the marine environment (Photo: Basel Convention)
As part of a plan to promote action and encourage dialogue between authorities, dedicated waste prevention initiatives, industry and academia, the partnership will collect information and analyse existing waste prevention strategies, thereby identifying hurdles blocking the path to sound management and seek best practices to deal with roadblocks. The activities to be overseen by a working group administered by the three conventions initially will be carried out during 2020 and 2021.
The partnership will also seek to influence policymaking as regards, for example, single-use plastics (SUPs). Here the emphasis will be on better design – of packaging, for example – and innovation to improve durability, reusability, reparability and recyclability of the materials across the entire life cycle. One of the goals is to pursue pilot projects aimed at meeting pre-determined targets. At an over-arching level, the founders' most urgent tasks will include improving information on transboundary movements of plastics waste.
At a UN meeting in Geneva / Switzerland in May this year, delegates from some 180 participating nations amended the Basel Convention to improve regulation of plastics waste – see Plasteurope.com of
14.05.2019
. To protect developing countries that have not yet closed their borders to the massive influx of low-quality waste they may not be equipped to deal with, exporters will have to obtain consent from national authorities of the destination country.
ASEAN countries should ratify Basel Convention amendment
According to UNEP, per capita municipal solid waste generation in Southeast Asia currently stands at 1.14 kg per day. With the exception of Singapore, which has a well-structured waste management system in place, most Southeast Asian countries resort to open burning to dispose of waste, it said. Along with Greenpeace, a number of other environmental groups in the region are calling on ASEAN to include a ban on waste imports in the 10-member regional bloc's agenda as well as ensuring that all of its countries ratify the amendment to the Basel Convention.
22.08.2019 Plasteurope.com [243206-0]
Published on 22.08.2019