PLASTICS AND ENVIRONMENT
Aimplas project to better manage PE and EPS waste / Pilot schemes in Spain, Italy and Hungary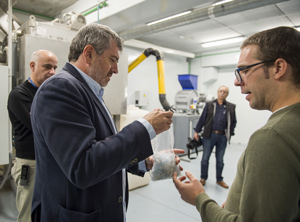 Environment deputy for the regional government of Valencia, Josep Bort Bono (middle), visits Aimplas facilities at the start of the "Life Recypack" project (Photo: Aimplas)
Spanish plastics technology centre
Aimplas
(Valencia;
www.aimplas.net
) is coordinating a new public-private waste management project for commercial plastic packages. Called "Life Recypack" (
www.liferecypackproject.eu
), Aimplas said it could benefit the EU economy by EUR 10.6m every year, with 57,000 t of plastics waste expected to be diverted from landfills and recycled once the project has finished.
Aimplas said current management of plastics waste in the EU does not meet circular economy criteria, noting that in 2013, member states generated more than 1m t of which 95% was sent to landfill.
Life Recypack will evaluate the waste management of PE and EPS. In particular, four pilot schemes will be implemented to separate commercial PE and EPS packaging waste in Spain and Italy, along with two recycling projects in Spain and Hungary. Once work is completed, Aimplas intends to repeat the experience in another 250 cities. Five years after Life Recypack has ended, Aimplas is expecting to have cut plastics waste by 70,700 t each year.
Organisations taking part in the project include the
Asociación Valenciana de Empresarios de Plásticos
(AVEP, Spain;
www.avep.es
),
Comercializadora Electrodomésticos
(COMELSA, Spain;
www.milar.es
) Valencia's regional government (
www.dival.es
),
Recycling, Consulting and Services
(RCS, Spain;
www.recyclingservices.eu
), as well as
ReMat
(Hungary;
www.remat.hu
) and
Scuola Superiore di Studi Universitari e di Perfezionamento Sant'Anna
(SSSUP, Italy;
www.santannapisa.it
)
Life Recypack is framed with the EU's "LIFE" programme, a financial instrument that supports environmental, nature conservation and climate action projects. For the 2014-2020 funding period, LIFE expects to contribute roughly EUR 3.4 bn to protect the environment and climate.
Aimplas is also coordinating another project in Spain – "MIPLASCOE" – that aims to make biopolyesters from orange and juice wastes – see Plasteurope.com of
01.08.2017
. It is also coordinating the four-year "DAFIA" project for developing high-value products from organic municipal and fish waste, involving researchers in the EU, Norway, Turkey and Israel – see Plasteurope.com of
24.04.2017
.
26.01.2018 Plasteurope.com [238894-0]
Published on 26.01.2018