PLASTICS AND ENVIRONMENT
WEF, MacArthur Foundation and plastics industry in joint declaration on combatting marine litter / "New Plastics Economy" initiative presents strategies for recycling at Davos
The 2017
World Economic Forum
(WEF, Geneva / Switzerland), held as every year in the Swiss alpine enclave of Davos, last week provided a snowy backdrop for the plastics industry to spotlight its efforts towards ridding the world's oceans of plastics waste. On 16 January, the eve of the international meeting of the world's economic elite, 40 major companies pledged to promote efforts to recycle and reuse spent plastic packaging.
Among those supporting the pledge – which focuses on combatting marine litter – are leading polymer producers, converters and consumer products manufacturers. The list of producers includes such names as
Dow
,
Borealis
and
Novamont
, with
Alpla
,
Sealed Air
,
Constantia
,
RPC
and
Greiner
weighing in for packaging manufacturers. On the consumer products side are industry giants such as
Procter & Gamble
,
Unilever
,
Coca-Cola
,
PepsiCo
and
Danone
. At the forum, some of the industry leaders joined
Ellen MacArthur
, the former sailor and principal of the
Ellen MacArthur Foundation
(EMF, Cowes, Isle of Wight / UK;
www.ellenmacarthurfoundation.org
) in presenting the first conclusions of a sustainable plastics paper published by the British think-tank in early 2016.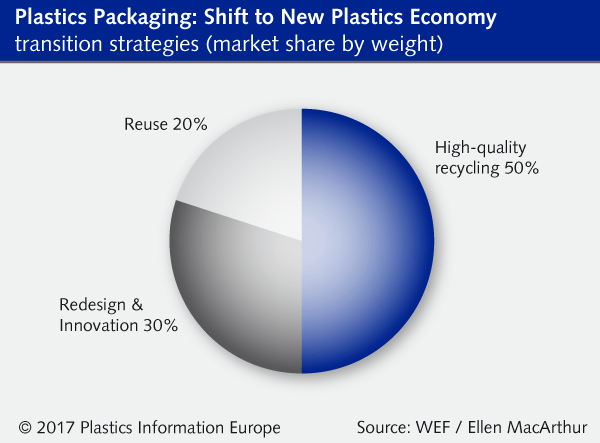 "The New Plastics Economy: Catalysing Action," a follow-up to last year's "The New Plastics Economy: Rethinking the Future of Plastics" – see Plasteurope.com of
09.02.2016
– outlines sustainability strategies for the various plastic packaging categories. The report analyses the materials used and attempts to quantify the economic value creation potential for recycling and reuse. It also outlines a set of priority actions for each category, as well as a "targeted plan" to be carried out in 2017 to catalyse progress.
In its latest report, the foundation calls for a quantum leap in global plastic packaging. In its researchers' estimate, only 14% of packaging waste is currently collected for recycling, and thus USD 80-120 bn of the material's value is lost to the economy. The paper contends that 50% of plastics packaging in use today could be profitably recycled if improvements were made to design and to waste management systems. However, without fundamental redesign and innovation, the remaining 30% will never be recycled. Given projected growth in production, this means that, if nothing changes, "by 2050 oceans could contain more plastics than fish."
In implementing a redesign, the authors say plastic packaging producers should consider which polymers are best suited, while avoiding "uncommon" types such as PVC, PS and EPS. Even if technically recyclable, this may not be economically feasible, due to the small volumes. They argue that less than 5% of PVC by volume is actually recycled in Europe, while PS is "rarely sorted from household waste and recycled." Making adjustments to the use of additives and pigments could be a favourable approach, the MacArthur foundation asserts. Other moves towards more sustainability spotlighted are a scale-up in the use of compostable packaging and related infrastructure for targeted "nutrient-contaminated" applications such as coffee capsules, takeaway packaging or biodegradable rubbish bags. All design changes together could produce an economic benefit of USD 1.1-1.6 bn (USD 90-140/t) throughout the
OECD
, the calculation goes.
Alongside conventional recycling and re-use (deemed to be appropriate for about 20% of packaging waste), another scenario eyed by the New Plastics Economy initiative is to explore the potential as well as the limitations of chemical recycling to reprocess currently unrecyclable plastic packaging into new plastics feedstocks – a solution that has been slumbering in the chemicals-plastics industry's back drawer for more than two decades due to its economic drawbacks.
e-Service:
WEF study "The New Plastics Economy: Catalysing Action" (January 2017) as a
PDF file
25.01.2017 Plasteurope.com 972 [236001-0]
Published on 25.01.2017
German version of this article...