PLASTICS AND ENVIRONMENT
Leading global industry players and cities join to form The New Plastics Economy initiative / Ellen MacArthur report serves as blueprint / Three-year project aimed at achieving a system-wide transformation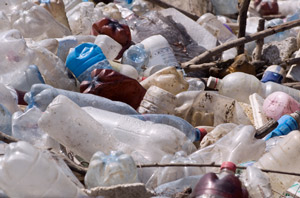 The New Plastics Economy initiative will start with plastic packaging (Photo: microgen/iStockPhoto)
There are not many ideas whose path from concept to realisation have moved as fast as "The New Plastics Economy", the outline of which was provided in the report issued by the
Ellen MacArthur Foundation
(Cowes, Isle of Wight / UK;
www.ellenmacarthurfoundation.org
) at the
World Economic Forum
(WEF, Geneva / Switzerland;
www.weforum.org
) held in Davos / Switzerland in January this year (see Plasteurope.com of
09.02.2016
). Just four months later, the report – which received widespread media attention (
Plasteurope.com
reported extensively) – has yielded a concrete initiative under the same name.
On 25 May the inaugural workshop of "The New Plastics Economy" (
www.newplasticseconomy.org
) brought together 40 global industry leaders as well as a number of cities, who have joined a three-year programme that constitutes "a concrete first step towards the design of a plastics system grounded in circular economy principles." The initial core partners of the initiative are
Amcor
(Hawthorn / Australia;
www.amcor.com
),
Mars
(Dranesville, Virginia / USA;
www.mars.com
) and
Unilever
(Englewood Cliffs, New Jersey / USA;
www.unilever.com
).
Commenting on the launch, the Ellen MacArthur Foundation's founder
Ellen MacArthur
said, "This new initiative is set up for three years, reflecting the scale of the challenge to mobilise over time a fundamental, system-wide transformation. It seeks to create a shared sense of direction, to spark a new wave of innovation and to move the plastics value chain – starting with plastic packaging – into a positive spiral of value capture, stronger economics and better environmental outcomes."
The approach of The New Plastics Economy initiative is "explicitly systemic and collaborative", the partners said, adding that it aims to overcome the limitations of the incremental improvements and fragmented initiatives of the past. In doing so, it focuses on five building blocks. They are dialogue, outreach, a so-called "Global Plastics Protocol" that will rethink plastic packaging materials and their formats and after-use systems, "innovation moon-shots" that consist of system-wide solutions that can be scaled globally, as well as an evidence base that will close knowledge gaps.
Aside from the core partners, a number of other leading industry giants have joined the initiative. They include
Coca-Cola
(Atlanta, Georgia / USA;
www.coca-cola.com
),
DuPont
(Wilmington, Delaware / USA;
www.dupont.com
),
Indorama
(Bangkok / Thailand;
www.indoramaventures.com
),
Marks & Spencer
(London / UK;
www.marksandspencer.com
),
Natureworks
(Minnetonka, Minnesota / USA;
www.natureworksllc.com
),
Novamont
(Novara / Italy;
www.novamont.com
),
Dow
(Midland, Michigan / USA;
www.dow.com
) and
Veolia
(Paris / France;
www.veolia.com
). The cities supporting The New Plastics Economy include Copenhagen / Denmark and the
London Waste and Recycling Board
.
01.06.2016 Plasteurope.com [234198-0]
Published on 01.06.2016