PHARMACEUTICAL PACKAGING
US market to grow by 4.9% per year to 2018 / Led by strong demand for parenteral containers and blister packaging / Freedonia report
US demand for pharmaceutical packaging is forecast to grow by an average of 4.9% per year to USD 22.10 bn (EUR 16.5 bn) in 2018, thanks to rising demand for parenteral containers and blister packaging, according to
Freedonia
(Cleveland, Ohio / USA;
www.freedonia.com
). The parenteral containers market is expected to expand by 6.9% per year to USD 3.61 bn, while the blister packaging market is expected to grow by 5.8% per year to USD 3.59 bn, the market research company says in a new report, "Pharmaceutical packaging products".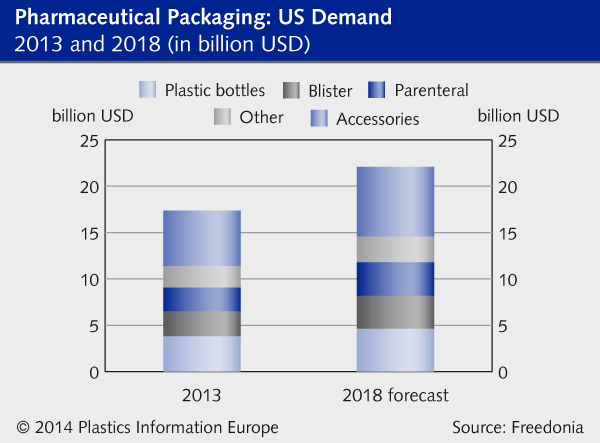 "Led by pre-fillable syringes, vials and premixed IV (intravenous) systems, parenteral containers will post the fastest growth in both revenue and unit demand as new injectable and infusion therapies based on biotechnology and other advanced life sciences are introduced into the marketplace," says Freedonia analyst Bill Martineau. "Demand for these containers will exceed that for blister packaging and will generate the second largest share of value demand among primary pharmaceutical containers in 2018."

Primary containers are expected to make up about two-thirds of the total, with plastic bottles accounting for the largest share. Closures, secondary containers, labels, and other packaging accessories account for the remainder.

Demand for plastic bottles – which are used in the bulk and prescription dose packaging of oral ethical drugs and the packaging of solid dose oral over-the-counter medicines – is predicted to rise by 3.8% per year to USD 4.60 bn between 2013 and 2018. Blister packaging is expected to remain the leading competitor to plastic bottles in solid oral drug applications, helped by its adaptability to unit dose and clinical trial dosage formats with expanded label content, high visibility and built-in track-and-trace features.

Demand for pre-fillable inhalers is forecast to expand faster than the average rate for primary pharmaceutical containers, thanks to growing applications in the delivery of asthma, chronic obstructive pulmonary disease (COPD) and insulin therapies. The market for pharmaceutical pouches, however, is expected to grow at a slightly below average pace as uses remain limited to the unit dose packaging of transdermal, powder and topical medicines, Freedonia says.

The market for glass pharmaceutical bottles will decrease, says the report, as plastic bottles and blister packs continue to replace glass in oral drug packaging applications. Dispensing closures, parenteral stoppers, security-enhanced labeling and intelligent components are expected to experience the fastest revenue growth of pharmaceutical packaging accessories.
07.08.2014 Plasteurope.com [228938-0]
Published on 07.08.2014