PET
Petcore conference has over 280 attendees / EU's SUP directive to drive PET developments / Upgrades for Belgium's collection and sorting / More countries to add deposit schemes
The annual "Petcore Europe Conference" was held from 6-7 February 2019 in Brussels, where organiser
Petcore Europe
(Brussels / Belgium;
https://petcore-europe.org
) announced that more than 280 participants attended the sold-out event. Updates at Petcore Europe included the election of a new president,
Stephen Short
(
Indorama
), who replaces
Paola Arlotti
(
Equipolymers
), and executive director
Christian Crépet
alluded to a new working group on chemical recycling soon to be added to the association.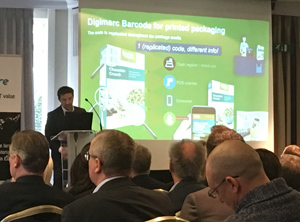 Gian De Belder (P&G) presented twice at this year's Petcore Europe conference – here he talks about digital watermarks technology (Photo: PIE)
The first day looked in depth at the European PET market, collection and recycling as well as changing supply and demand. Chairman of the Committee of PET Manufacturers in Europe (CPME) Steve Scott stressed the importance of chemical recycling and the essential role PET producers will have here. Casper van den Dungen from Plastics Recyclers Europe (PRE) presented an outlook on rPET up to 2030, with the main points being the EU single-use plastics (SUP) directive as the driver for PET value developments and that improved PET bottle collection is required to reach the 77% collection target in 2025. He concluded with a call to the recycling industry to "use the momentum to create the difference."
European plastics industry alliance has first meeting
Day two had
Laure Baillargeon
from the
European Commission
(DG Grow) present on the EU plastics strategy and offer insights on the "Circular Plastics Alliance" – see Plasteurope.com of
17.12.2018
– which comprises
30 industry associations
, including Petcore Europe, and had its first meeting on 5 February 2019. She said the alliance will drive change, rather than being subject to it, and is committed to the target of seeing 10m t of recyclate sold in the EU by 2025. She also noted the large change in public opinion in recent years, which has triggered policy reaction. Regarding the SUP directive, Baillargeon said in her 11 years of experience at the EU level, she had never seen such a fast agreement – from being planned in autumn 2017 and agreed upon by the EU commission, parliament and council by the end of 2018 – see Plasteurope.com of
03.01.2019
. Looking forward in 2019 and beyond, she said DG Grow is to work on standardisation, comparative life cycle analysis and microplastics.
Belgium to upgrade collection and sorting
Clarissa Morawski
from
Reloop
(Brussels;
www.reloopplatform.eu
) gave updates on deposit-refund schemes. In Europe, Scotland, Malta, Portugal, Turkey and Romania are currently planning implementation or legislation of deposit systems, while the same is being discussed in Slovakia, France, England and Serbia – see Plasteurope.com of
30.01.2019
. Morawski thinks Australia will likely be the first continent to have deposit-refund schemes from coast to coast. There is a global trend for reverse vending systems, with some countries using innovative initiatives – see Plasteurope.com of
03.01.2019
.
Plarebel
's (Brussels;
www.epro-plasticsrecycling.org/companies/17
)
An Vossen
focused on the Belgian PET collection system. The country is planning to reach a 90% rate for PET collection. This will include kerbside collection, with a new blue bag being introduced in 2019, and improved sorting. Sorting is now done in nine centres across Belgium, and the plan is to rebuild all of these to deal with a total of 14 different new waste streams, including clear and coloured PET bottles, films, PET trays, HDPE, PP, PS and mixed polyolefins. Plarebel is a non-profit organisation that promotes plastics recycling and acts as an expertise centre for
Fost Plus
(Brussels;
www.fostplus.be
), which is responsible for the collection and recycling of household packaging waste in Belgium.
The Petcore Europe conference had further sessions on trends, technologies and solutions in PET collection as well as eco-design. Last, but certainly not least, was session seven on chemical recycling.
14.02.2019 Plasteurope.com [241730-0]
Published on 14.02.2019