PETROCHEMICALS
EPCA Conference 2022: Serious faces at annual meeting of plastics producers in Berlin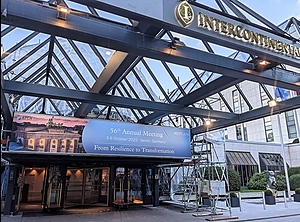 Meeting in times of crisis: the EPCA conference in Berlin (Photo: PIE)
There has never been so much uncertainty. Although the annual conference of the
European Petrochemical Association
(EPCA, Brussels;
www.epca.eu
) in Berlin, Germany did not officially start until 4 October 2022, the "pre-conference" sessions on the day before already showed that the industry is extremely nervous. Serious faces everywhere. Resin makers also don't know what will happen with the petrochemical sector in Europe and in which direction it will develop.
The current global economic situation is too convoluted and unpredictable for a reliable forecast. The speakers, who on the day before the conference traditionally come from information service providers such as
S&P
,
IHS
, or
Dow Jones
and not from the petrochemical industry itself, were unanimous in their assessment of the past year, stating that 2021 had been an extraordinarily successful year for producers in economic terms – despite the Covid crisis and the lockdowns in China.
Related
:
Disruptions in petrochemicals trade and market worsen
But at the latest with the Russian attack on Ukraine, the picture has changed. Demand has since collapsed. For example, the Chinese construction sector collapsed by a third, dragging down demand for building materials like PVC as well as for home furnishings and appliances. In addition to this, the supply of polyethylene and polypropylene in particular is suffering from "overkill", as a Dow Jones representative put it.
The findings are similar for Europe: an oversupply of material is colliding with dramatically reduced demand, especially from the construction and automotive sectors. According to industry experts, the packaging and health sectors are a long way from being able to compensate for this decline. The result: more and more producers are starting to throttle their production, shut it down completely or just not start up again after maintenance. This decision is made easier for them by the still prohibitively rising energy prices, which are putting massive pressure on margins.
Related
:
Polyolefin producers want to retain part of decreased raw materials costs
The trend of switching off crackers is therefore likely to increase in the future. According to the experts, there will be no shortage of PE and PP in the next few years – especially when increased imports from China flood the European market, because domestic demand there is also dropping drastically, and production volumes are being thrown onto the market.
For the petrochemical industry in Europe, this means that a whole generation of old, inefficient crackers could soon be retired for good. The works councils of the chemical companies will not like the sound of this. And it is not good news for plastics processors either because, if supply decreases, prices will stagnate at a high level, at the very least.
06.10.2022 Plasteurope.com [251306-0]
Published on 06.10.2022