PETKIM
Construction of USD 5.5 bn mega-refinery on track / Commissioning expected in 2015 / Start-up will significantly reduce Turkey's dependence on feedstock imports
A country still highly dependent on importing petrochemical feedstocks, Turkey stands to gain a lot from a new refinery being built by the country's largest petrochemicals producer
Petkim
(Aliaga;
www.petkim.com.tr
) at its headquarters near Izmir. Construction of the USD 5.5 bn complex, scheduled for commissioning in 2015, is already underway.
Speaking to
Plasteurope.com
at the "Plast Eurasia" fair in Istanbul (see Plasteurope.com of
02.11.2011
), Petkim representatives said the refinery will have capacity to produce up to 2m t/y of petrochemical feedstock naphtha and will also be able to process 10m t/y of crude oil, significantly changing Turkey's petrochemical scene. Although the country's plastics sector is booming – for a more detailed report, see Plasteurope.com of
28.11.2011
– Turkey continues to rely on feedstock imports to satiate its plastics appetite.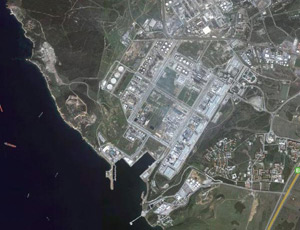 The mega refinery will be able to produce 2m t/y of naphtha and process 10m t/y of crude oil (Photo: Petkim)
Once the mega-refinery complex comes on stream, the country will be able to cut down significantly its naphtha and crude oil imports especially from Azerbaijan. To illustrate: While Turkey today has to import about 70-75% of chemical feedstocks, the refinery would reduce that dependence on imports by 30%. In terms of naphtha especially, the complex would mark a real turnaround, as Turkey currently sources about 90% of its naphtha abroad.
The complex would not have been possible without significant investment from Azerbaijan, specifically from the
State Oil Company of Azerbaijan
(Socar), which – together with Turkish refinery operator
Turcas Petros
– acquired 51% of the shares in Petkim in 2008 (see Plasteurope.com of
28.07.2008
). Given the rapid growth rates of Turkey's plastics sector, however, investors are sure to see a return. According to
Kenan Yavuz
, who heads the Socar/Turcas group of companies, the new super-complex – modelled after Singapore's Jurong Island – is to double capacity by 2018. A similar view was echoed by Petkim representatives Plasteurope.com spoke to, who said the group currently had capacity to turn out 2m t/y of petrochemical products, and is planning to double output by 2020.
Turkey's sole petrochemicals producer, Petkim controls about 25-26% of the country's domestic market, and posted sales of USD 1.9 bn in 2010. The group's 2,500 employees are spread across 15 main production plants as well as 8 subsidiaries. Petkim turned out 3.2m t of petrochemical products in 2010.
07.12.2011 Plasteurope.com [220982-0]
Published on 07.12.2011