PACKAGING
Trade associations criticise EU packaging waste proposal / Targets said to lack scientific support / Call for guidelines based on ecological impacts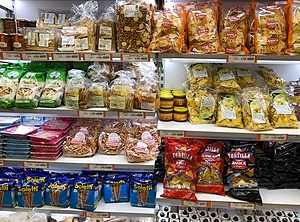 One point of criticism is the failure to account for legal restrictions on recycled polymers for contact-sensitive applications such as food packaging (Photo: PIE)
European Plastics Converters
(EuPC, Brussels;
www.plasticsconverters.eu
) and 61 other trade associations from the packaging sector have warned that the
European Commission
's proposed revision of EU rules on packaging and packaging waste will at best lead to an "unworkable" regulatory environment and could ultimately "cripple whole sectors of industry".
In a
joint statement released on 10 November 2022
, the signatories said that despite actively engaging with the commission's directorate-general for environment, most of their recommendations for the EU Packaging and Packaging Waste Directive (PPWD) were ignored, and the draft as it stands could even reverse progress under the European Green Deal (see Plasteurope.com of
27.01.2020
).
As well as the EuPC, signatories from the plastics sector included industry bodies such as
Plastics Europe
(Brussels;
www.plasticseurope.org
),
Styrenics Circular Solutions
(SCS, Brussels;
www.styrenics-circular-solutions.com
),
Ceflex
(Brussels;
www.ceflex.eu
),
European Bioplastics
(EUBP, Berlin;
www.european-bioplastics.org
) and the
Association of European Manufacturers of Expanded Polystyrene
(Eumeps, Brussels;
www.eumeps.org
). Also supporting the statement were trade groups from a range of industries, including food and beverage, paints and inks, cosmetics, paper, and flooring.
Related
:
IK's managing director in Q&A on EU Packaging and Waste Directive
The industry representatives said by dismissing recycling's key role for reaching packaging circularity, it would be harder to convert waste into viable secondary packaging. This would subsequently have a negative impact on the recycling industry and risk millions of jobs and billions of euros in investment at a time when Europe needs resilient and sustainable growth.
The signatories are calling for a framework for the rapid adoption of clear design for recycling guidelines, which would be updated regularly. These guidelines would determine what packaging is allowed on the EU market, which would eliminate the need for the trading bloc's proposed prescriptive negative lists.
Follow the science, industry groups say
The revised rules also set refill and reuse targets that the trade bodies said are "not realistic, disproportionate and could be counterproductive", while also noting that third-party certified life-cycle assessments have shown that refill and reuse is not always the best option from a climate and environmental perspective.
They argued that instead of fixed targets, a framework should be established to enable mandatory collection and recycling while scaling up refill and reuse beyond niche projects "where it makes environmental and ecological sense".
Related
:
NGOs raise concerns on EU's revision to waste legislation
The statement also raised concerns that the proposed targets could not be achieved without compromising packaging functionality or causing manufacturers to use additional material with a higher environmental impact.
The signatories accused the commission of a "total lack of assessment" on the feasibility of such targets, citing the failure to account for bottlenecks or the scarcity and legal restrictions on recycled polymers for contact-sensitive applications, such as food, pharmaceuticals, cosmetics, and medical products. They added that chemical recycling needs to be counted against the targets to unlock the necessary investments.
The groups referred to the proposed product-to-pack ratio for certain products as "arbitrary", adding that it fails to consider the safety of a specific type of packaging, its functionality, or the various necessary characteristics required.
"Arbitrary bans and unrealistic and discriminatory targets that are not supported by scientific and empirical evidence do not create the positive investment climate needed to support the transition," the group statement said, "and they make industry question if to continue investing in this legislative setting is at all sustainable."
Consequently, the groups are urging the commission to address these "critical issues" so that the proposed rules are future-proof and support Europe's industry push towards a fully circular economy.
Earlier in November, Europe's four leading beverage associations also raised concerns about the PPWD draft. The drinks industry said the commission was considering unjustifiably high targets for the reuse of beverage containers that could threaten the existence of affected companies (see Plasteurope.com of
04.11.2022
).
22.11.2022 Plasteurope.com [251585-0]
Published on 22.11.2022