PACKAGING AND SUSTAINABILITY
76% end-users want to recycle more: Amcor survey / "Brands should make it clearer how to recycle packaging"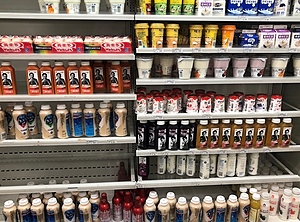 A supermarket shelf in China with various types of plastic packaging (Photo: PIE)
A survey conducted by Australian packaging group
Amcor
(Hawthorn;
www.amcor.com
) shows that when it comes to packaging sustainability, a majority of end-users want products to be recyclable, would like to have more accessible recycling facilities, and would like to recycle more than they do currently.
The survey was held in six countries – Australia, Brazil, China, Germany, the UK, and the US – encompassed 12,000 consumers, and 76% of them said they would like to recycle more. It also showed that recyclability is the most important sustainability attribute for packaging above other aspects like reusability and the materials used. Simply put, most end-users surveyed failed to emphasise whether plastic products can be used more than once or even if they've been made of recycled materials.
Related:
Recyclable PVDC-free shrink bags for meat, poultry, cheese
Additionally, 83% said they want brands to make it clearer how to recycle packaging, which does not sit well with the apparent environmental friendliness of paper-plastic packaging that has been gaining momentum of late, products that often leave consumers confused about which bin they should chose for disposal (see Plasteurope.com of
09.12.2021
). According to Amcor, 80% of the those surveyed said it should be the responsibility of recycling service providers, such as local governments, to improve infrastructure so packaging can be recycled in practice.
Sustainability Report 2021
Amcor also recently released its 2021 Sustainability Report, in which the company reported that 74% of its products are now designed to be recycled, and that it has increased its purchase and use of recycled content by 86% since 2019. It said it purchased 104,523 t of recycled resins in 2021, and used more than 400,000 t of bio-based materials. The packaging company also claims to have reduced its environmental footprint, including a 57% year-on-year increase in renewable energy use.
13.12.2021 Plasteurope.com [249135-0]
Published on 13.12.2021