PACKAGING AND E-COMMERCE
Online retail giant Amazon to reduce plastic packaging in Germany / French postal service selects reusable plastic bags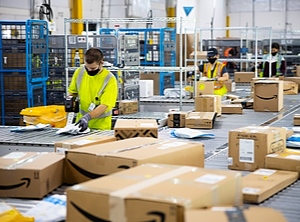 Amazon Germany's logistics centre is to replace SUP packages with paper-based bags by 2021 end (Photo: Amazon)
Retail giant
Amazon
has announced plans to decrease the use of plastic packaging in Germany, adding that the country's logistics centre will replace all single-use plastic (SUP) packages with paper-based bags or cardboard boxes by the end of 2021.
There are, however, exceptions: when third-party sellers provide products in packaging that can be relabelled for delivery, or when couriers are asked to leave products in outdoor locations during rainfall, the company said.
Related:
Amazon India eliminates SUP packaging across 50 fulfilment centres
At the company's annual meeting in May, a majority of shareholders voted down a proposal requesting a report on Amazon's plastic packaging. As reported by
Plasteurope.com
, the online retailer's board of directors was against the proposal (see Plasteurope.com of
01.06.2021
).
In France, on the other hand, the postal service is turning to modern-day solutions being provided by start-ups to reduce the use of plastics in packaging. National postal service
La Poste
(Paris;
www.laposte.fr
) recently announced its partnership with
Hipli
(Le Havre;
www.hipli.fr
), a provider of reusable, recyclable plastic bags for e-commerce. Hipli claims that its foldable, postable bags – made from a mix of PET and polypropylene – can be reused up to 100 times. "We talk a lot about recycling, but it's not the best solution," said
Laure Mandaron
, director of corporate social responsibility at La Poste. "The less we produce, the less we waste, the less we pollute."
Related:
RePack's Christof Trowitz talks circular approach with reusable PP bags
The French company's business model sounds vaguely similar to Finnish firm
RePack
's (Helsinki;
www.repack.com
) – which also happens to be in business with La Poste and also makes reusable, recyclable bags from PP.
The postal company's sudden interest in these start-ups might have something to do with new laws coming into force in the country. The ministry of ecological transition's April 2021 "3R" decree (reduce, reuse, recycle) stipulates a 20% reduction in SUP packaging by 2025. The aim is to promote reuse and replacement solutions while eliminating 100% of superfluous packaging. According to the French ministry, 2.2m t of plastic packaging are put on the market annually, with the rate of reuse said to be close to zero and the recycling rate at only 27%, according to data from 2018.
26.11.2021 Plasteurope.com [249080-0]
Published on 26.11.2021