OIL MARKETS
Saudi Arabia aims to meet all supply commitments in September / Petrochemical deliveries gather speed
Saudi Arabia intends to fully meet all its oil delivery commitments in September 2019. Petrochemical supply with ethane would gradually increase, Saudi energy minister
Abdulaziz bin Salman
announced in a press conference on 17 September. As a result, concerns about availability from Saudi sources have receded following the attacks on oil processing facilities on 14 September (see Plasteurope.com of
16.09.2019
). The prices of crude oil and refined oil products sank after the announcement.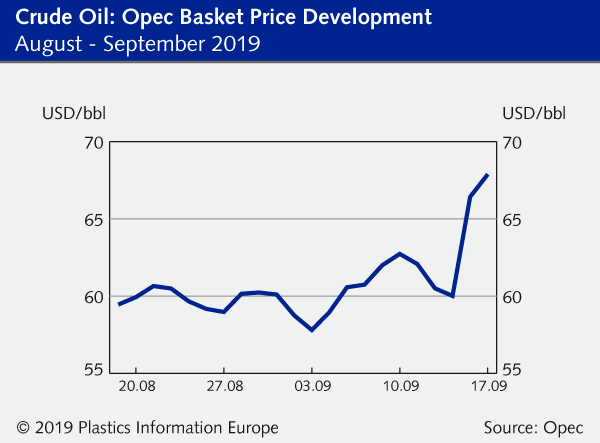 The production volumes that were lost are being offset by state-owned oil giant
Saudi Aramco
's (Riyadh / Saudi Arabia;
www.saudiaramco.com
) reserves as well as compensation by other production facilities. By the end of September, crude production in the country is expected to be around 11m barrels a day (bpd), which is near the level before the attacks. Around 12m bpd should be reached by the end of November. Ethane and gases output will also be gradually increased to the end of September to the level before the attacks. The minister said the attacks reduced output of dry gas by 36.8m m³, ethane by 14.2m m³ and gas liquids by around half a million barrels.
The drone strikes on the Saudi Arabian Khurais oil field and neighbouring Abqaiq refinery disrupted the country's crude oil by half (5.7m bpd), resulting in an oil price spike. By 16 September, already half of the lost volume could be produced again.
Downstream polymer production witnessed in part severe restrictions in the supply of feedstocks.
Sabic
received only about half of its feedstock supply, the company said on 15 September. By 18 September, Saudi Aramco's deliveries were apparently already back to 70%. Supply to
Yansab
went down by approximately 30%.
As Saudi Arabia's power supply was preserved, petrochemicals had to cope with the bulk of delivery restrictions.
S&P
said it assumes that gas supplies to power plants will continue, with petchem producers bearing the brunt of the cuts.
Prices of crude oil as well as downstream refinery products and polymers were put on a roller coaster ride in the past few days. Brent crude initially shot up around 20% in stock market trading, but plummeted during the course of the trading day on 16 September. After the Saudi Arabian minister's press conference, another sharp drop in prices of around USD 4/t was then seen. Crude oil prices are still far from the level before the attacks. The fear of an escalation in the conflict remains.
19.09.2019 Plasteurope.com 1035 [243470-0]
Published on 19.09.2019
German version of this article...