OCEAN POLYMERS
Non-binding MoU with Saudi partner / Land and marine based recycling solutions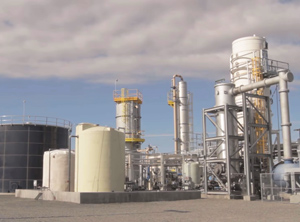 Ocean Polymers' recycling facility in Saudi Arabia will be based on the model in use in Arlington, Oregon / USA as shown here; technology supplier is InEnTec (Photo: InEnTec)
Recycling technology start-up
Ocean Polymers
(Slough / UK;
www.cleanourocean.com
) has signed a Memorandum of Understanding (MoU) with an unnamed "leading corporation" based in Saudi Arabia to cooperate on projects involving new and renewable energy technologies in the
Gulf Cooperation Council
(GCC) countries. The collaboration, which foresees a pooling of experience in national recycling and renewable energy policies, would identify areas of mutual interest, in particular for joint projects or partnerships.
Working together would facilitate the creation of joint commercial and non-commercial activities as well as promoting monitoring and evaluating cooperation activities in these fields, the British start-up company said.
Ocean Polymers said its recycling facility model has demonstrated the ability to convert household solid waste into ultra-clean syngas that can be used to produce renewable hydrogen. CEO
Paul Rodgers
said the company continues to build relationships with investors, suppliers and end-users to accelerate the growth of its innovative solution globally. It is exciting to be part of the waste management future of not only Saudi Arabia but across the GCC, he said.
Ship to recycle marine plastic on location
In the UK, the firm aims to set up a ship with onboard machinery that can recycle plastic found in the ocean and convert it into hydrogen power. It has been working with a team from London's Imperial College on the project for the past six years and hopes to launch what is being touted as the world's only ship-based ocean plastic collection and recycling system by the second half of 2019.

Smaller boats travelling short distances are planned to take rubbish back to the main ship and later produce and sell clean plastic aggregates. In the company's view, it is currently not cost effective to bring plastic waste to shore, given the fuel required and the mixture of plastic and non-recyclable materials.

Presently, Ocean Polymers is trying to sell a 5% stake in the company, yielding proceeds of an anticipated GBP 750,000. The company also aims to secure patents and intellectual property rights and to establish a business plan.
13.09.2018 Plasteurope.com [240578-0]
Published on 13.09.2018