NOVAMONT
Biopolymers used in new food packaging products / Ticinoplast's "NextFilm" compostable films and Colussi's "Misura" multilayer film
Extruded polyethylene blown film maker
Ticinoplast
(Milan / Italy;
www.ticinoplast.it
) launched its "NextFilm" line of compostable flexible packaging films, created in a three-year research and development collaboration with biopolymer specialist
Novamont
(Novara / Italy;
www.novamont.com
).
NextFilm is made from Novamont's "Mater-Bi" family of plant-based biodegradable plastics that meet international standard UNI EN 13432 for compostability whether in a soil or marine environment or an industrial composting plant. NextFilm's greatest potential for use is in applications where recycling operations are complex or impractical and where biodegradability offers added value, said Ticinoplast. The new films can be recycled along with organic materials such as food waste, hence it offers an advantage over multilayer packaging that is not recyclable or is contaminated with food waste.
Currently there are five compost-certified NextFilms and three compostable sealing films which can be used individually or together in a lamination. Print media can be applied to the NextFilm by rotogravure or flexographic process. Ticinoplast will supplement the NextFilm range with a PE film suitable for food contact made from both bio-based and chemical recycling resins.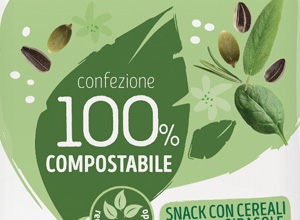 The "Misura" line comprises biodegradable food packaging films (Image: Novamont)
Saes Coated Films
(Roncello / Italy;
www.saescoatedfilms.com
), a supplier of advanced material coatings that uses NextFilm, developed a family of high-barrier coating products for compostable flexible packaging that complies with the UNI EN 13432 standard. Saes Coated Films applied its proprietary "Coathink" water-based lacquer coating technology to NextFilm to create a compostable film with oxygen and moisture barrier properties comparable to conventional non-recyclable multilayer films. Previously, the
Saes
group (Milan;
www.saesgetters.com
) worked with Novamont to develop plant-based biopolymers (see Plasteurope.com of
31.10.2019
).
Mater-Bi is also used in a new line of packaging launched by Novamont and Italian food brand group
Colussi
(Milan;
www.colussigroup.it
). "Misura" compostable packaging is a multilayer film made of Mater-Bi with barrier effects against oxygen and humidity. As an essential business, Novamont has been operational at its Italian and international locations during the ongoing coronavirus pandemic (see Plasteurope.com of
06.04.2020
).
11.06.2020 Plasteurope.com [245280-0]
Published on 11.06.2020