NORDENIA
German film and flexible packaging manufacturer showcases latest innovations ahead of Interpack / Sustainability as key leitmotif
Ahead of "Interpack 2011" (
www.interpack.com
), held in Düsseldorf / Germany from 12-18 May 2011, German film and flexible packaging manufacturer
Nordenia
(Greven;
www.nordenia.com
) recently showcased several innovations to be unveiled at the fair.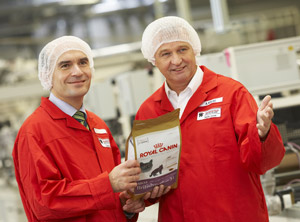 Nordenia's plant managers. Passion for innovation (Photo: Nordenia)
Developed at its plant in Halle / Germany as part of its "Innovation 35" agenda to generate 35% of group sales from products that are less than five years old, one of Nordenia's key innovations is "NorCell". Trial runs for the foamed film that contains a honeycomb structure of CO
2
pockets were completed in February 2011, with industrial production scheduled to begin at the group's Spanish plant in May. NorCell film is manufactured using the MuCell microcellular foam technology that allows for weight savings of up to 20%. So far, MuCell was predominantly used as an injection moulding process, with first extrusion experiences in 2008 – see Plasteurope.com of
29.07.2008
. This is the first time Plasteurope.com has learned of the process being applied to film, with Nordenia adding that its MuCell license was exclusive. One of the advantages of NorCell, Nordenia explained, is that it can be processed on the same machinery as other films. The film is scheduled to be introduced into the market sometime in Q3 or Q4 this year.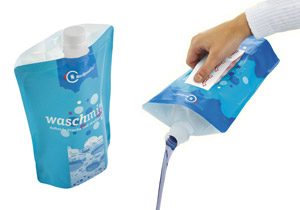 "Nor SpoutBag" offers weight savings of up to 50% (Photo: Nordenia)
Another key innovation that will take centre-stage at Nordenia's booth during Interpack is the "Nor SpoutBag", winner of the 2010 German Packaging Prize. Although it may look like a classic standard pouch, the bag is capable of holding much larger volumes, and comes in sizes ranging from 1.5 – 5 litres. Made of PE and PET, "Nor SpoutBag" could pose a real danger to classic HDPE containers, since it offers 80% sustainability savings and up to 50% weight reduction for 1.5 litre containers of washing liquid, for example. Thanks to its reduced weight and size, the bag also saves both freight and recycling costs. Nordenia says the look of the pouch, which comes with a handle and does not require squeezing, can be altered, adding that its key application markets include motor oils, wine, washing liquid, windshield wash as well as large-scale catering applications. According to Alfons Kruse, who heads Nordenia's plant in Steinfeld / Germany, two German companies have already ordered Nor SpoutBag and great interest also has been expressed in the US.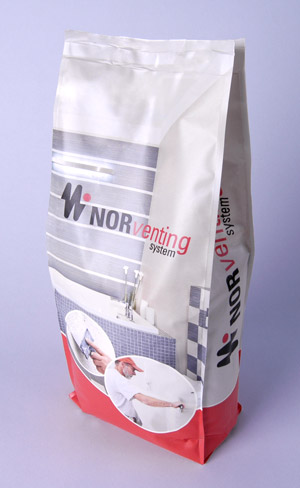 "NorVenting System": Introducing the first plastic packaging for construction materials (Photo: Nordenia)
Also sure to catch the eye of numerous Interpack visitors is the company's new "NorVenting System". Designed with a view to avoid the spillage of construction materials and to extend their shelf-life, the system features two patented air vents that allow the bag's contents to breathe. "NorVenting" is the first plastic packaging for construction materials that can hold up to 5 kg of weight, Nordenia says. In addition, its venting systems are installed in such a manner as to ensure that the bag does not break, its contents cannot soak up moisture and when squeezed to let air out, no product seeps out either. All of this means that shelf life has been extended from 6 to up to 18 months. In this case, too, Nordenia is still working to improve the product, including plans to add a handle or a ziplock to the bag.

Founded in 1966 as Nordenia Kunststoffe, the German company first took its business abroad to North America in 1988 before launching plants in Spain and Hungary in 1993. Four years later, the company also began production in Asia, where it now operates lines in China and Malaysia. A Russian subsidiary was established in 2003. Today, the company has a workforce of 3,000 employees across the globe, who generated EUR 664m in sales in financial 2009.

Altogether, the German group produced some 140m packaging units in Steinfeld last year, with plans to raise that output to 160m in 2011. Nordenia has ordered a new extruder for its main German packaging film plant in Halle, whose nameplate capacity stands at 18,000 t/y. Once the machine is delivered, most likely in November, capacity will rise by 3,000 t/y.
24.03.2011 Plasteurope.com [218976-0]
Published on 24.03.2011