NATURAL GAS
European Commission proposes that member states slash gas use / Commission President von der Leyen says Russia "blackmailing" Europe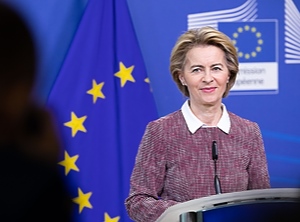 European Commission President Ursula von der Leyen (Photo: European Union)
The
European Commission
wants EU member states to cut natural gas consumption by 15% from August to March of next year as concerns about possible reductions in Russian supplies continue to mount.
The commission is proposing a new legislative tool and what it called a European Gas Demand Reduction Plan. "All consumers, public administrations, households, owners of public buildings, power suppliers, and industry can and should take measures to save gas," it said in a statement.
The commission added that it will also accelerate work on supply diversification, including joint purchasing of gas to improve EU sourcing.
The EU officials said plans for a regulation to cut gas use could give the commission power to impose mandatory gas reductions for member states should the situation warrant a "Union Alert" on security and supply.
Related:
Qatar finalises gas North Field Expansion contracts
Von der Leyen chides Russia
EU Commission President
Ursula von der Leyen
told reporters on 20 July that Russia was "likely" to stop deliveries of natural gas to Europe.
"Russia is blackmailing us," she said. "Russia is using energy as a weapon. And therefore, in any event, whether it is a partial major cut off of Russian gas or total cut off of Russian gas, Europe needs to be ready."
Her remarks came a day before maintenance on the Nord Stream 1 pipeline was scheduled to end (see Plasteurope.com of
13.07.2022
). The pipeline delivers Russian gas to Europe, but the flow has been reduced to zero during the repair period, and many observers are concerned that Moscow may now decide to only provide limited shipments or none at all.
Related:
Brussels unveils plans to end reliance on Russian gas
20.07.2022 Plasteurope.com [250804-0]
Published on 20.07.2022