MEDICAL PLASTICS
EU commission may postpone implementing medical device regulation / Free access to European standards for medical supplies to boost production
The new medical device regulation (MDR) was due to come into effect on 26 May 2020, but the
European Commission
announced on 25 March 2020 that it is working on a proposal to postpone the MDR application date. The commission said it intends to submit the proposal in early April so that the
European Parliament
and
European Council
can adopt it by the end of May. Furthermore, the commission expects the measure to take the pressure off national authorities and manufacturers so these can "focus fully on urgent priorities related to the coronavirus crisis."
European trade association for the medical technology industry,
MedTech Europe
(Brussels / Belgium;
www.medtecheurope.org
), welcomed the news from the EU commission. The association called for a six-month postponement on 23 March, noting the industry is working "relentlessly to provide personal protective equipment, diagnostics, respiratory devices and other critical medical equipment to patients, healthcare workers and hospitals on the Covid-19 frontline."
Three years ago, the MDR was adopted by the EU council and parliament – see Plasteurope.com of
03.05.2017
– and it came into force in May 2017. The new rules are to only fully apply after a transitional period that lasts for three years (as defined now until May 2020) after the entry into force of the regulation on medical devices.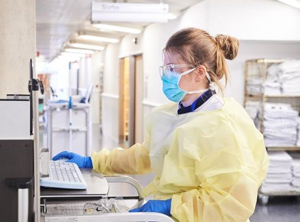 The EU has organised free access to European standards in order to ease the situation for medical supply manufacturing (Photo: European Commission)
With the coronavirus creating massive impacts across Europe, the EU commission has been working with industry and member states to maximise the availability of medical supplies. Efforts include increasing production by existing manufacturers, facilitating imports and activating alternative ways of producing equipment. In an announcement on 20 March, the commission said itself, the
European Committee for Standardization
(CEN, Brussels;
www.cen.eu
) and
European Committee for Electrotechnical Standardization
(Cenelec, Brussels;
www.cenelec.eu
) agreed to make available European standards for certain medical devices and personal protective equipment. The action is to help companies start manufacturing these items quickly and place the products on the internal market more easily.
Normally, these standards must be purchased and used according to intellectual property rules, with the copyrights belonging to the organisations that have developed the standards. The EU commission noted that "the derogation from this business model is a strong European response, based on a sense of social responsibility and solidarity, to address the shortage problem of protective equipment deriving from the Covid-19 epidemics."
The recent weeks have seen companies from across the plastics industry diverting production in order to meet demand for certain materials and products during the coronavirus pandemic. Manufacturers not typically producing medical supplies and equipment have been creating new production plans from scratch – see Plasteurope.com of
05.03.2020
,
27.03.2020
,
27.03.2020
and
30.03.2020
.
30.03.2020 Plasteurope.com [244816-0]
Published on 30.03.2020