MASTERBATCH MARKET
Consolidation and growth in Europe / Market´s "Top 50" dominated by five large players
The European masterbatch industry grew by 5.5% on the annual average over the past five years to reach a volume of around 800,000 t/y, according to a new report from the British market research group
Applied Market Information Ltd.
(AMI, GB-Bristol;
www.amiplastics.com
) on "Europe´s top 50 masterbatch producers". The market is controlled in essence by five large producers,
A. Schulman
,
Ampacet
,
Clariant
,
Cabot
and
PolyOne
, which between them accounted for nearly 60% of all masterbatch output in Europe in 2002. Ranking sixth to tenth are
Viba
,
Polyplast Müller
,
Ferro Hubron
and
Ciba.
AMI sees consumption of masterbatches in Europe at just over 700,000 t in 2002, up from 540,000 t in 1996. Up to 2006, the resarch group forecasts growth in annual consumption to around 880,000. The individual production segments – black, white, colour and additives – currently have virtually equal shares of consumption.
The latest report contains comprehensive company portraits of the 50 largest European masterbatch players, including details not available from other sources.
Book Service:
AMI Report "Corporate performance and ownership among masterbatch producers: A review of Europe´s 50 leading players", 2003, 121 pages, A4, paperback, EUR 490.00 +VAT:
PIE-No.
B 46258.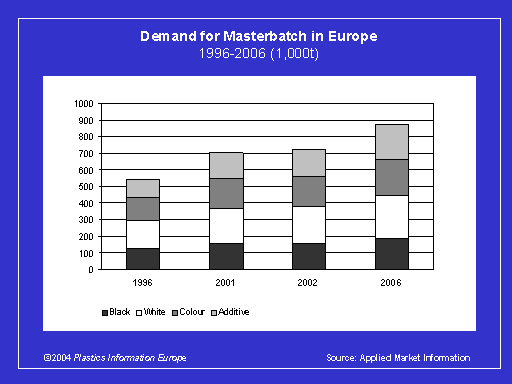 29.04.2004 Plasteurope.com [13167]
Published on 29.04.2004