MARINE LITTER
The Ocean Cleanup celebrates milestone waste collection in Pacific Ocean's Great Garbage Patch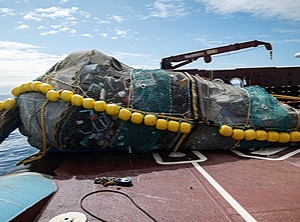 TOC has collected 108,526 kg of waste plastics from the Great Garbage Patch (Photo: TOC)
Dutch non-profit
The Ocean Cleanup
(TOC, Rotterdam;
www.theoceancleanup.com
) said it has now extracted more than 100,000 kg of waste plastics from the Pacific Ocean's Great Garbage Patch. TOC said it had collected 101,353 kg of plastic over 45 extractions since launching its System 002 in the ocean in August 2021, sweeping an area of more than 3,000 km².
Including the 7,173 kg of plastics captured by its previous prototype systems, TOC said it had collected a total of 108,526 kg of plastics from the Great Garbage Patch – more than the combined weight of two and a half Boeing 737-800s.
Related:
South Korean car maker Kia partners with The Ocean Cleanup
Founded in 2013 by the-then 18-year-old
Boyan Slat
, TOC uses huge booms, or 'artificial coastlines', which sweep the ocean surface, skimming floating waste plastics into retention zones, where it is collected. Slat said achieving the 100,000 kg-plus milestone was all the more remarkable, given that the System 002 was based on experimental technology.
"Now our technology is validated, we are ready to move on to our new and expanded System 03, which is expected to capture plastic at a rate potentially 10 times higher than System 002 through a combination of increased size, improved efficiency, and increased uptime," he added.
12.08.2022 Plasteurope.com [250939-0]
Published on 12.08.2022