MARINE LITTER
The Ocean Cleanup is back in the Great Pacific Garbage Patch / First run with System 0002 / Deployment of System 003 / Plans to offset carbon emissions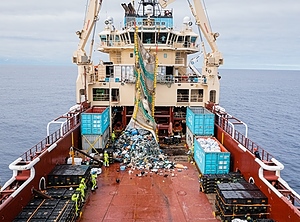 System 002 extraction emptied on deck (Photo: The Ocean Cleanup)
After two years of ups and downs, during which the coronavirus pandemic, a technology revamp for the ocean-going vessel and the launch of a river-going vessel kept its teams poised for challenges,
The Ocean Cleanup
(TOC, Delft / The Netherlands;
www.theoceancleanup.com
) is
back
in the Great Pacific Garbage Patch, catching discarded plastics of all shapes and sizes.
Eight years after its founding and three years after launching its first clean-up vessel, the ambitious project, launched by Dutchman
Boyan Slat
to rid the oceans of marine litter, has now ended its testing in the Pacific gyre and is focusing on harvesting plastics. Parallel to the deployment of its updated System 002, dubbed "Jenny", the organisation is starting the development of a new upgrade, System 003. This is planned to be the prototype for a scale-up to a fleet of systems three times larger than the current constellation.
Jenny to remove 9,000 kg plastics per haul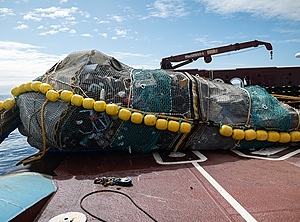 In nine test extractions, the vehicle collected 28,659 kg of plastic material (Photo: The Ocean Cleanup)
On a 12-week trip to the Pacific gyre in July this year, TOC said Jenny – itself the result of several upgrades – confirmed its ability to capture and harvest plastic waste ranging from microplastics to "immense ghost nets". In nine test extractions, the vehicle collected 28,659 kg of plastic material, removing 9,000 kg in a single haul. According to project operators, the first catch with Jenny included a variety of discarded plastic products, ranging from toilet seats and laundry baskets to shoes and discarded fishing gear.
To back up its claims of origin and amount, TOC said all harvested plastic will be tracked, traced, and verified through Norwegian certification body
DNV
(Oslo;
www.dnv.com
) using its identity preserved chain of custody model.
The cleanup system, a project launched in 2018 – has had its problems over the past three years. The initial run, in early 2019, was marred by the vessel's failure to maintain sufficient speed, which allowed the collected plastics to exit the system, along with a stress concentration that caused a fatigue fracture in the HDPE floater. After being towed back to its California starting point, the problem was identified and corrected, and following a redesign, the plastics catcher returned to the patch, and work continued (see Plasteurope.com of
07.06.2019
).
Simultaneous work on System 003
In tandem with cleanup operations, TOC's engineering team will now work on System 003, which at 2.5 km will be much longer than previous iterations. In parallel, the plastics removal activity will continue with System 002 until the newest model – incorporating insights gleaned from the System 002 test campaign – is ready to begin its work. As environmental protection is "paramount to all its efforts", the organisation said it will continue environmental monitoring and data collection, moving forward in a step-by-step approach.
As a new feature of its activity, TOC plans to offset all carbon emissions from its System 002 campaign with the aim of reaching carbon neutrality. At the same time, in collaboration with its technical partner, Norwegian shipping giant
Maersk
, the staff will start experimenting with low-carbon fuels for support vessels.
While starting the project in 2018 (see Plasteurope.com of
27.08.2018
), the now-experienced cleanup specialists had based their calculations of how much work would be required on the then-state-of-the-art estimates, which suggested there was at least 79,000 t of plastic inside a 1.6 m km² area within the gyre. Microplastics – particles smaller than 5 cm – were believed to make up only about 8% of the total volume, but they accounted for almost all of the calculated 1.8 trillion pieces of debris floating in the gyre. The need for a cleanup task has thus grown continuously.
In any case, the task is and will remain monumental. A 2020 study found that more than 11m t/y of plastic are being dumped into the oceans each year, and that figure could nearly triple by 2040, potentially requiring many times the number of cleanup systems TOC now has. Without immediate and sustained action, the study conducted by the
Pew Charitable Trust
(Philadelphia, Pennsylvania / USA;
www.pewtrusts.org
) said, the annual flow of plastics pollution could nearly triple by 2040 – the year The Ocean Cleanup believes it could have a majority of floating plastics removed.
04.11.2021 Plasteurope.com [248877-0]
Published on 04.11.2021