MARINE LITTER
Portugal studies plastics contamination in Douro river / Results show more microplastics than fish larvae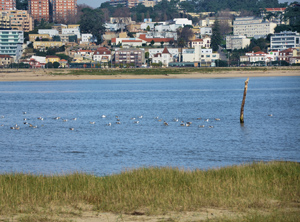 Seagulls at the Douro estuary and Porto in the background (Photo: Panthermedia/jorgefelix)
A study by the Portuguese
Interdisciplinary Centre of Maritime and Environmental Investigation
(CIIMAR, Matosinhos;
www.ciimar.up.pt
) has found that the quantity of plastic particles in the Douro estuary is higher than the number of fish and fish larvae.
The research, which started in December 2016 and ran until December 2017, aimed to understand the ratio between fish larvae and microplastics in the estuary, which serves as a refuge for several marine species. The Douro river runs for 930 km in the Iberian Peninsula, draining into the Atlantic Ocean near the city of Porto on Portugal's northwest coast. CIIMAR performed monthly samplings at nine selected sites along the initial 17 km of the estuary.
The results show that throughout the whole estuary there is an average ratio of 1.5 particles of microplastics to one larva. Researchers found several different types of microplastics, namely fibres, soft/hard plastic and colourful/transparent plastic. Hard microplastics and fibres were the most predominant types found, together representing 83% of all the microplastics collected. Hard colourful particles made up 48% of the microplastics recovered, while 35% was fibres, 13% soft colourful particles, 3% soft transparent particles and 1% hard transparent particles. CIIMAR also notes that the microplastics collected were mostly rough and of irregular shape, possibly suggesting they were mainly secondary microplastics resulting from the degradation of larger plastic debris.
Sandra Ramos
, the researcher in charge of coordinating the study, told Portugal's Lusa news agency that the CIIMAR team was aiming to start a new study to analyse both the sources of contamination and the larvae to understand if the fish eat the plastic particles.
Inland waters in other parts of Europe also face similar plastics waste problems. This includes, for example, the Danube, which has launched a supranational project focussed on reducing plastic litter in Europe's longest river – see Plasteurope.com of
19.07.2018
.
08.02.2019 Plasteurope.com [241639-0]
Published on 08.02.2019