LOGISTICS
Better, but not by much: one in ten containers still stuck in traffic jam / Standstill at Russian ports as well / Slight changes in container freight rates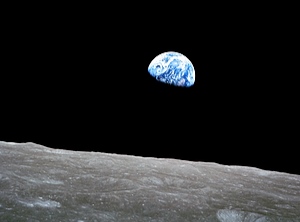 When will mass logistics between Earth and the Moon begin? (Photo: Pexels, Pixabay)
Japanese start-up Ispace has chosen the transport of goods between earth and the moon as its business model. By 2040, a settlement for humans is to be built and operated on earth's satellite. The question is: will space transporters jam up in orbit? The problem of strained galactic supply chains still seems to lie in the astronomically distant future. But ever since The Hitchhiker's Guide to the Galaxy, we have known that even in the cosmos of the milky way there are very tangible infrastructural problems to overcome.

At the moment though, no one at shipping giant Maersk is thinking of giving up business on the blue planet. On the contrary, the company is determined to achieve its strategic goal – climate neutrality by 2040. To this end, the world's second-largest container carrier is investing a whopping EUR 10 bn in the production of green methanol, together with partners in Spain. Maersk had already invested a similar sum in Egypt.

An announcement by the even-larger container giant MSC, on the other hand, is likely to leave a sour taste in customers' mouths. The company announced that it would pass on the cost of Europe's CO2 pricing directly to its customers – an additional EUR 69 per 20-foot container. Actual inclusion of global cargo shipping in the EU's emissions trading system, however, is not expected until 2023 or 2024.

Meanwhile, global container ship congestion continues to ease, according to German Kiel Institute of Economics. This decline is due in part to declining global trade – according to the Kiel Trade Indicator, global freight traffic shrank by 0.8% in October. Still, the level of all goods shipped worldwide that are not getting off the ground remains high in October (10%).

Western sanctions are having an impact in Russia. For example, the country's former largest container port in St. Petersburg is handling less than 10% of the previous year's volume. Capacity utilisation at the Black Sea port in Novorossiysk also slumped by half. Only the port of Vladivostok, which is important for handling Asian trade, was able to maintain its previous year's level.
Freight rates mostly stagnate
There was little change in freight rates in the week from 7-13 November. The cost of transporting a 40-foot container (FEU) by ship from China to the US West Coast remained at USD 2,500 (EUR 2,551). From China to the US East Coast was also unchanged at USD 5,900. The route from China to Northern Europe, on the other hand, decreased in price by 2% to USD 4,900. The return route, meanwhile, became more expensive: from Northern Europe to China cost USD 800, up 12.5% on the previous week. From China to Southern Europe, it became cheaper: USD 5,100 corresponds to a minus of 3.9%.

Other rates, in turn, stagnated – for example, from Southern Europe to China (at USD 1,000) and from the US East Coast to Northern Europe (also at USD 1,000). Those wishing to ship their goods from Northern Europe to "the land of opportunity" paid USD 7,400 per FEU, down 1.4% from the previous week.
10.11.2022 Plasteurope.com [251534-0]
Published on 10.11.2022
German version of this article...