LOGISTICS
China's official balance sheet: nearly 200 mn containers handled from January to August / Strike, strike, and another strike in UK / Hapag-Lloyd spends EUR 1 bn on acquisition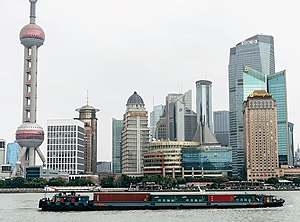 Back on track? China is content with the current container turnover (Photo: Pexels/Markus Winkler)
While one might want to add a grain or so of salt to China's economic data published by its domestic media, this does little to lessen the sheer impressiveness of the scope being proffered: the Xinhua news agency reports that between January and August 2022, around 195 mn 20-foot containers (TEU) were processed at Chinese ports – a rise of 4.1% year-on-year.

Does this entail some relief for the global supply chains? … Not really. Figures from the Kiel Trade Indicator suggest that over 2% of global freight capacities are still piled up in the North Sea. Hoping that the congestion will ease any time soon is a vain endeavour, what with the strikes of UK harbour workers and the resulting disruptions for the transport and logistics industry.

Work was halted at the isle's largest container port in Felixstowe until 5 October, and strike action at the second largest port in Liverpool just recently ended – but the next one is set to kick off on 11 October. The situation is not exactly alleviated by more than 40,000 British rail workers planning a strike on 8 October that might well shut down the entire railway network in the UK.

Now on to our favourite topic – shippers on a shopping spree. Hapag-Lloyd is all set for annual profits in the range of EUR 18 bn. With that much money in the bank, the EUR 1 bn acquisition of Chile's SAAM barely makes a dent. The deal for the third largest global logistics firm comes with shares in ten ports in Chile, Columbia, Costa Rica, Ecuador, Mexico, and the US.
All freight rates from China drop
And what's happening with container freight rates? The routes from China are currently at a low. At no point in the past 18 months has it cost this little to ship a 40-foot container (FEU) from East to West as in the week ending 9 October. The rate for a trip to the US West Coast dropped a whopping 14.3% to USD 3,500 (EUR 3,535), falling 6.7% to USD 7,500 from China to the US East Coast.

The cost of shipping from China to Northern Europe also fell compared to the previous week, by 7.1% to USD 7,000. The return route was unchanged at USD 700. The trip from China to Southern Europe witnessed a double-digit decline, dropping 11.4% to USD 7,000. Transporting an FEU back to the People's Republic came in at USD 1,100, a 9.1% decrease versus the week before.

Rates stagnated for the route from the US East Coast to Northern Europe and back at USD 600 and USD 7,500, respectively.
06.10.2022 Plasteurope.com [251320-0]
Published on 06.10.2022
German version of this article...