LOGISTICS
More logistics companies diversifying business model / Boom in trucks, but lack of drivers / Container freight rates still inconsistent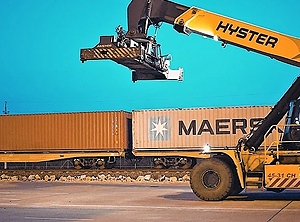 On the new route from China to Europe, containers have to be moved several times (Photo: Maersk)
On the water, on land, and, in the future, also in the air: French shipping and logistics company
CMA CGM
, which is worth billions of euros, is driving the diversification of its business model further. With bubbling profits from sea freight, the company wants to become a major shareholder of the airline company
Air France-KLM
and acquire a share package of 9%. Other shipping companies and logistics experts have demonstrated how this can be done – and that this way of expanding the value chain can reap dividends. The world's largest container freight line,
Maersk
, for example, recently founded its own aviation division, and haulage company
Kühne + Nagel
also recently acquired 10% of
Lufthansa
.
European truck production is more or less sold out for 2022. Despite the fear that the economy will remain weak, the demand for trucks continues unabated. The main factors driving this boom are the considerable pent-up demand (many fleets are now over-aged) and an order backlog that is almost impossible to work off, and which came about through supply bottlenecks at the producers. Industry insiders expect the trend towards road transport of goods to continue in the upcoming years, and even intensify. They anticipate growth rates of 3-4% a year. On top of all that, there is a serious lack of drivers to drive the many new trucks.
Last week,
Plasteurope.com
reported on a new, combined rail-river-rail route that
Maersk
had set up from China to Europe that goes via Kazakhstan, Azerbaijan and Georgia to Romania (see Plasteurope.com of
19.05.2022
). There were many inquiries from Plasteurope.com readers on this subject, asking about the exact route and the required travel times. Unfortunately, Maersk has not yet answered the detailed inquiry from PIE. But according to the company's website, the transportation of a container along this route will take around 40 days.
Japanese logistics company,
Nippon Express
, is now offering a similar transport route. From many Chinese cities, containers are taken by rail to Aktau in Kazakhstan, from where they are shipped across the Caspian Sea to Baku and, from there, once again carried by rail to Istanbul in Turkey. Here, the containers are loaded onto EU railways or trucks and sent to the west. Nippon Express puts the time taken to do this route at 50-55 days.
Let us move on to the freight rates. In the week from 23 to 29 May, the cost of transporting a 40-foot container (FEU) from China to the US West Coast was USD 14,000 (EUR 13,335), which was 3.7% more than in the previous week. From China to the US East Coast, the rate remained unchanged at USD 16,400. There was also a small increase of 1.9% for the route from China to Northern Europe, standing at USD 11,000. In the opposite direction, the price for an FEU also rose, by 3.9% to USD 800. In turn, from China to Southern Europe and back, the costs remained where they were: westwards, the price was USD 13,000 and eastwards, a container cost USD 1,600. The freight rates from the US East Coast to Northern Europe also remained unchanged at USD 700, while the trip back was USD 8,500.
26.05.2022 Plasteurope.com [250362-0]
Published on 26.05.2022
German version of this article...