LOGISTICS
Freight rates continue to rise / Container shortages exacerbate price inflation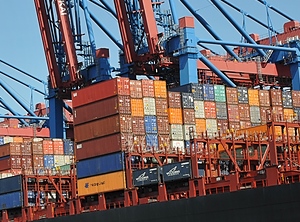 Looks can be deceiving: containers are in short supply (Photo: PIE)
Freight rates keep on moving in one direction: up. According to the latest research by Plasteurope.com, the price of transporting a 40-foot container from China to Northern Europe is now USD 8,275 (EUR 6,850), a jump of more than 10% in just seven days. In the week of 19 April, the rate for the same route was "only" USD 7,505. The cost increase on the second major route in global goods trade between Europe and the US east coast has been similarly dramatic: here, the rate rose to an average of USD 3,505 in the week of 26 April from USD 3,375 in the prior seven days. If and when this absurd price spiral will stop is unforeseeable.

A major reason for skyrocketing freight rates is that since the start of the coronavirus crisis, the fundamental shortage of containers has made itself apparent. With an estimated 40m to 45m units, there are currently no fewer metal containers sailing the world's oceans than there were before the pandemic. The average handling frequency of a container is 15 to 17 times a year. This translates into an enormous number of container loads per year, between 600m and 765m.

This gigantic continous flow of goods must be timed precisely and can only be maintained as if ships do not have to wait for days at overcrowded ports or a blocked Suez Canal. If the sensitive choreography of the containers comes to a standstill, they are immediately in short supply elsewhere in the logistics chain, which increases freight costs. To illustrate the dimensions with an example: pre-pandemic, it cost between EUR 70 and EUR 80 to ship a tonne of granulate from China to Europe. Today the price is as high as 350 EUR/t.
05.05.2021 Plasteurope.com [247558-0]
Published on 05.05.2021
German version of this article...