LOGISTICS
Germany's river transport subject to restrictions / Rainfall brings relief to Rhine river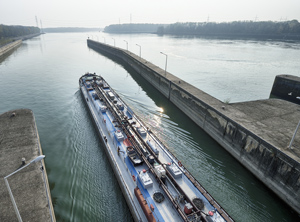 Dry conditions are impacting river transport in the northern and eastern parts of Germany (Photo: via donau - Österreichische Wasserstrassen-Gesellschaft/Johannes Zinne)
Following the precipitation in the past few weeks, water levels on the Rhine river in Germany have continued to return to normal. On the Danube river too, the federal institute of hydrology (
BfG
, Koblenz / Germany;
www.bafg.de
) reports that restrictions on inland shipping have either now been lifted or only limited restrictions still apply. The picture in the north and east of Germany is a different one. The Oder, Elbe, Weser and Ems rivers still have low water levels, with continued disruption to navigation.
Over the past few days, there has been more rainfall, and water levels in Germany's inland waterways are not likely to get any worse. The BfG expects levels to remain predominantly unchanged or to recede slightly following the increases of the past few days – especially on the Danube.
Germany's national meteorological service,
Deutscher Wetterdienst
(DWD), has recorded a sobering balance for July. The drought reached "catastrophic proportions in some cases," says the DWD. In numerous locations across Germany there was only a quarter or a fifth of the average rainfall. With the heat and large precipitation deficit outstanding from last year, the drought in some regions is devastating.
Apart from shallow water, navigation on the Elbe river has also been hindered by unpredictable factors of a completely different nature. Regional media have reported that the Geesthacht lock on the Elbe river, for example, was out of operation for some time due to staff shortages.
21.08.2019 Plasteurope.com [243201-0]
Published on 21.08.2019
German version of this article...