LEHMANN & VOSS
PA compound for extrusion-based 3D printing / Hollow microspheres range also expanded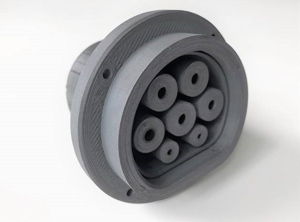 3D-printed electric plug made from the company's new "Luvocom 3F" polyamide (Photo: Lehmann & Voss)
Compounder
Lehmann & Voss
(LuV, Hamburg / Germany;
www.lehvoss.de
) has launched a material within its "Luvocom 3F PAHT" range, a product line of flame-retardant, high-temperature polyamide designed for extrusion-based 3D printing.
The 3F PAHT "KK 50056 BK FR" has ceramic fillers to increase its thermal stability without causing any processing issues from filament production to part printing, says the company. With its halogen-free flame-retardant, UL-94 V0 is achieved on printed parts with thicknesses of at least 0.4 mm. An
Ultimaker
(Utrecht / The Netherlands;
www.ultimaker.com
) "S5" printer has been used to 3D print with the material, which can also run on other systems.
The material is suited for applications where flame retardancy is important, such as in the E&E market. It is compatible with HIPS and PVOH support materials.
New grade in Tri-Spheres portfolio
Lehmann & Voss is also expanding its portfolio of "Tri-Spheres" hollow microspheres with a new grade of ultrafine particle size, "Tri-Spheres 45XS Ultra".

Tri-Spheres are silica-based multicellular hollow spheres serving as lightweight fillers. They have high thermal and mechanical resistance as well as bright colour and can be used in applications to cut density and weight as well as to optimise acoustic and thermal insulation, such as in paints, coatings and building materials. In plastics applications, they are used in moulding, extrusion, composites and the automotive industry.
25.06.2020 Plasteurope.com [245390-0]
Published on 25.06.2020