K 2016
World's leading plastics fair opens its doors / Focus on feedstock supply, "Industry 4.0", additive manufacturing and marine litter / Packaging increasingly important to machinery manufacturers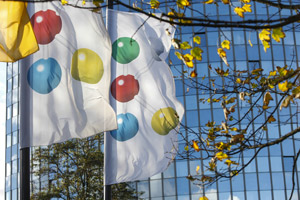 K takes place in Düsseldorf every three years (Photo: Messe Düsseldorf)
If there is such a thing as the beating heart of an industry, then the plastics segment's pulse would be dictated by events in Düsseldorf / Germany. It is here that "K" (
www.k-online.com
) is held every three years, setting the beat of the industry throughout eight jam-packed days. The fair draws more than 3,000 exhibitors – from means of sourcing the latest raw materials, to seeing the newest machines, semi-finished and finished goods as well as learning about innovative service offerings. Against the backdrop of rising global plastics consumption, this year's "K" – the most international ever, according to
Werner Dornscheidt
, manager of organiser
Messe Düsseldorf
(Düsseldorf;
www.messe-duesseldorf.de
) – is once again expected to attract more than 200,000 visitors.
K president
Ulrich Reifenhäuser
, leading board member at
Reifenhäuser
(Troisdorf / Germany;
www.reifenhauser.com
) explained that global plastics consumption has risen by 11m t last year to a total of 322m t. The key growth driver is Asia, which now accounts for 50% of total plastics consumption. Ranked far behind are North America and Europe, which each account for about 18%.
Today is the day the doors of the Düsseldorf fairgrounds will again be opened to visitors, following three years of hiatus. None of the world's other plastics fairs boasts as diverse a group of exhibitors, nowhere is it possible to see so many new technological advances showcased by large and efficient machines. No other event offers as broad a display of plastics applications, and – last but not least – nowhere else in the world do all the latest trends converge in one place.
By the end of September, 3,259 exhibitors had signed up for the event – which translates into 33, or 1%, more than during "K 2013". They are spread across about 174,000 m
2
of fairgrounds (up 1.5% over the previous edition), spread across 21 levels in 19 halls as well as the fairgrounds' open space. The 1,912 machinery, periphery and tool suppliers take up 69% of total space, while the 824 raw material and processing aid producers make up 23% of space. The 323 registered plastics processors make up 6% of the total fairgrounds, with the remaining 2% home to 210 service providers.
The largest number of exhibitors among the 61 different countries represented comes from Germany. Altogether, 1,034 local companies will be showcasing their goods at the event, accounting for 32% of the exhibitor total (2013: 33%) and occupying 39% of total space – the same as in 2013. The largest number of foreign exhibitors at this year's show comes from Italy (422), followed by China (396), Taiwan (127), Turkey and the US (each with 113), France (112) and India (103). However, the number of exhibitors from Poland, Russia, Denmark, The Netherlands, Spain, Turkey and China has seen the largest growth compared to the 2013 edition. Taking a smaller share of the total, the gains seen by Mexico, Iran and Vietnam are also impressive. By contrast, exhibitor numbers from India are down over the 2013 edition (103 as opposed to 145), as are those coming from Switzerland (85 versus 99) and the UK (86 as opposed to 100).
A number of topics of interest emerged already before the fair kicked off, and they are expected to shape the coming eight days in one way or another. The machinery segment, for instance, will focus on "Industry 4.0" – a concept that is as catchy as it is illusive. It will be interesting to see whether the meaning behind the term – taken to refer to concrete advances in problem-solving and innovation – will have become clearer at the end of the fair. A more precise definition could be one of the main goals of machinery exhibitors at K.
Discussions on the future of European feedstock supply
As for the feedstock market, the fair will reflect the shifts that have occurred over the course of the past few years – illustrating once again how much Europe's importance as a polymer producing region has waned. This topic will also feature prominently at
KI Group
's "Polymer Summit", which takes place on the second day of the fair (for more details, see Plasteurope.com of
07.10.2016
).
Another topic was introduced by
Arburg
three years ago with much fanfare, when the machinery maker awoke the 3D printing segment from its slumber – at least where the plastics segment was concerned. A large number of pre-K press releases have picked up this particular gauntlet, which for accuracy purposes should be referred to as "additive manufacturing". After all, not every tool-less production actually uses the layered 3D printing approach – laser sintering and stereo printing also make up a large part. That being said, the topic of 3D printing has never been so present in the plastics industry.
Environmental issues take on an increasingly global meaning
In the political realm, the plastics industry is once again confronted by environmental challenges. The issue of marine litter was already touched upon in 2013, and the sector appears to be engaging this topic more than ever before. The World Plastics Council (WPC), made up of global plastics producers, will gather for its summit at K, and discuss the problem of marine debris. Elsewhere, too, the question of plastic waste will feature prominently, including at a number of accompanying and special fair events.

In some respect, this focus resembles that of "K 92" 25 years ago, when the topic of recycling took centre stage. German developments helped push the issue at the time. Since then, environmental concerns have been swept by the globalisation trend, and the problems linked to plastic waste and its environmental impact are now making a big return at the world stage. What, after all, is the use of all sovereign solutions if the world's oceans – the environment of all of us – remain polluted? The path may be difficult, and the problem may appear insurmountable, but that does not mean that industry should not discuss and pass resolutions aimed at solving this issue. The German experience in the recycling field shows that the solutions are out there – they just have to be found.
KI Group lands official German-language fair media
For us at KI Group, K 2016 also comes with a new responsibility. At booth C 28 in hall 6 we are showcasing our extensive media portfolio, designed to meet the information needs of plastics industry executives. Our increasingly international presence is illustrated by the wide range of special events we are organising and co-hosting during the coming eight days.

At the same time, we are proud to be the medium publishing the official German-language "K" show daily – "K-AKTUELL". In addition to printed and online news, our online database contains more than 5,000 product news to date, sorted in an innovative manner by plastics end application. This type of classification shows some interesting facts about this year's exhibitor landscape.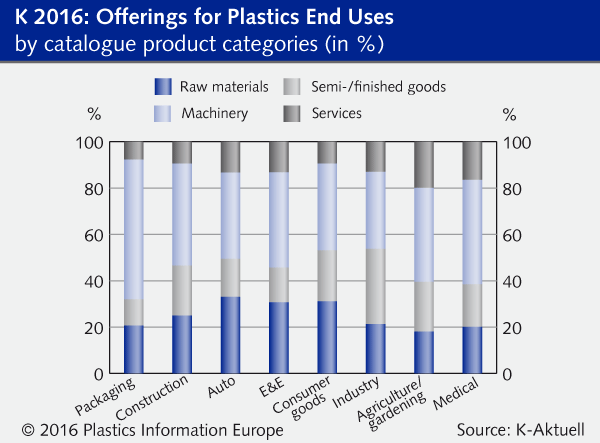 It can be said with certainty, for instance, that packaging applications have increasingly become an integral part of machinery makers' portfolios. Injection moulding machinery producers, for instance, which have traditionally focused on technical applications, will offer a much wider range of solutions for the packaging segment than ever before, experts have told KI Group. At about 60%, the packaging market in fact makes up the highest quota of machinery offers among the eight end markets defined by K-AKTUELL. By contrast, just 20% relate to exhibitors' raw material portfolios.

In other segments, including the automotive or consumer goods sectors, the quota is different – and the share of raw material and machinery suppliers is about the same. Clearly, these particular end markets offer raw material suppliers more chances at differentiating themselves than is the case for packaging applications. It should come as no surprise that industrial applications account for a high share of semi-finished and finished plastics products – but it is still useful to have that fact confirmed by numbers.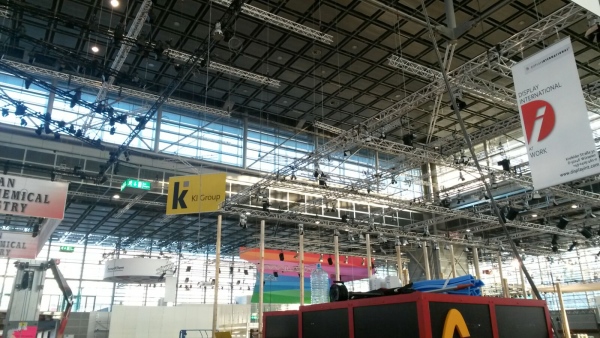 Workers put the finishing touches on the exhibits yesterday (Photo: Display International)


Regardless of which sector you belong to, or what motivates you to visit the beating heart of the global plastics industry, we at KI Group welcome you to this year's "K 2016" and wish you the utmost of success during your stay in Düsseldorf!
19.10.2016 Plasteurope.com [235286-0]
Published on 19.10.2016