KOMPUESTOS
Spanish compounder plans to expand / Compostable resins for single-use applications
Kompuestos
(Palau-Solità i Plegamans / Spain;
www.kompuestos.com
) has received a favourable report from the
Mercado Alternativo Bursátil
's (MAB, Madrid / Spain;
www.bolsasymercados.es
) coordination and admissions committee, following a review of the information presented by the company. The MAB is an alternative Spanish equity market for SMEs that are planning to expand.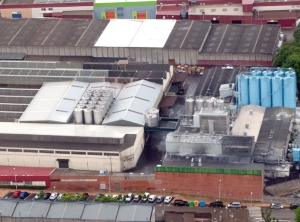 One of two production sites Kompuestos has in Barcelona (Photo: Kompuestos)
The compounder and masterbatch producer based near Barcelona plans to carry out a capital increase in July 2019, specifically to acquire a new production line to raise capacity and boost its bio-solutions business, such as for biodegradable polymers. Kompuestos says its strategy is in line with the EU's directive on banning certain single-use plastics – see Plasteurope.com of
23.05.2019
. In 2018, the Spanish company generated turnover of EUR 41.3m in 2018, up 13.1% compared to 2017, and recorded an EBITDA of EUR 3.7m.
Kompuestos is the name and trademark of the former
Colores y Compuestos Plasticos
, a family-owned masterbatch company founded 1986 in Barcelona. The company's offering includes PE, PP and PS masterbatches in addition to bio-based, compostable polymer resins.
In March 2019, Kompuestos announced it had joined the
Ellen MacArthur Foundation
's (EMF, Cowes / UK;
www.ellenmacarthurfoundation.org
) global commitment – see Plasteurope.com of
02.11.2018
– and the company has made core commitments to sustainability. One goal is to increase the percentage of recycled materials within all its formulations to 20% in five years. Furthermore, the company plans to increase the use of compostable and renewable products from 0% to 20%. Besides, the aim is to extend the production of low carbon footprint solutions based in mineral fillers ("Exfill") from 61% to 70%.
Solutions for single-use plastic products
The company says 80% of its production is currently for manufacturing single-use plastics, but it aims to adapt its formulations and reduce this to 30% by 2025, while scaling up its sustainable products from a 20% share to 70%. "We commit to help our customers (plastic converters) to rethink certain applications that are damaging the environment."

Also earlier this year, several of the company's "Biokomp" resins received the "OK Compost" certification from TÜV Austria (meeting the European standard for compostable packaging EN 13432). According to Kompuestos, the Biokomp resins, which are biopolymers, can be processed by conventional extrusion, cast film, blown, sheet, extrusion coating and injection moulding lines. Biokomp polymers are especially designed for single-use applications such as carrier bags, waste bags or fruit and vegetable bags as well as films. The family of biodegradable resins are made from starches including corn, potato and cereals.
17.07.2019 Plasteurope.com 1032 [242893-0]
Published on 17.07.2019