KENYA
Launch of wide-sweeping plastic bag ban / Draconian penalties for use / Other African countries to follow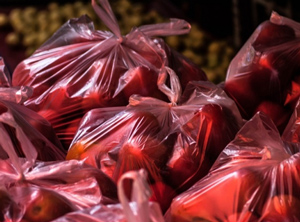 Kenya has introduced a ban on plastic bags with an aim to reduce plastic pollution (Photo: UNEP)
Kenya has implemented what is being called the world's toughest law aimed at reducing plastics waste. The legislation that took effect on 28 August 2017 makes it illegal to manufacture the bags in the African country, import them or even carry them on the streets. At the same time, air travellers arriving at Kenyan airports will be required to leave their plastic duty-free bags behind them. Offenders in any category will be slapped with penalties of up to four years in prison and fines ranging from USD 19,000 to USD 38,000, according to reports. Plastic bags used for primary industrial packaging are exempt from the ban, while plastic rubbish bags are prohibited.
Cabinet secretary for Environment and Natural Resources
Judi Wakhung
said Kenyans "must change their behaviour on the use of polyethylene," which she called "a dangerous contaminant and pollutant that causes the deaths of livestock, fish and life in biodiversity." The ministry is encouraging production of biodegradable bags, without addressing the subject of biodegradable plastics. Alternatives currently in use in the country include traditional woven-cloth bags and paper bags containing sisal, bamboo or water hyacinth. Wakhungu said production of the alternative carrier bags would create employment in the country and promote the use of local products.
In implementing the ban – its third try after two unsuccessful attempts – the Kenyan government triumphed over objections from plastic bag manufacturers, who argued that the production of plastic bags creates jobs. The new rules were allowed to go into effect after Kenya's High Court rejected a plea filed by two bag importers to drop the ban, saying that protecting the environment was more important than the companies' commercial interests. The
Kenya Association of Manufacturers
estimated that the ban could cost up to 60,000 jobs. Rubbish collectors also protested the government's move, saying that without plastic bin liners, waste disposal in the nation's capital, Nairobi, would "become impossible." By contrast, officials said the plastics ban is supported by the
United Nations General Assembly
. The UN has estimated that Kenyan shoppers consume around 100m plastic bags annually. With a population of around 48m, Kenyan per capita consumption is much lower than most European countries.
A number of African countries have implemented full or partial bans on plastic bags, reports say, and the number appears to be growing. The list now is said to include Cameroon, Guinea-Bissau, Mali, Tanzania, Uganda, Ethiopia, Mauritania and Malawi. In Morocco, for example, a plastic bag ban has been in effect since July 2016 already (see Plasteurope.com of
24.07.2017
). Tunisia has also banned carrier bags in its supermarkets since March 2017 (see Plasteurope.com of
11.04.2017
).
According to a statement issued by the
United Nations Environment Programme
(UNEP) in March, when the Kenyan plans were announced, carrier bags contribute substantially to the 8m t of plastics waste that leak into the world's oceans annually. At current rates, by 2050 there will be more plastic in the oceans than fish, UNEP concluded. In 2016, the
World Economic Forum
(WEF, Geneva / Switzerland;
www.weforum.org
) and the
Ellen MacArthur Foundation
(Cowes / UK;
www.ellenmacarthurfoundation.org
) released a study that stated they would like nothing less than to "trigger a revolution" in the plastics industrial ecosystem to reduce plastic waste in the oceans (see Plasteurope.com of
09.02.2016
).
06.09.2017 Plasteurope.com [237788-0]
Published on 06.09.2017