JOHNS MANVILLE
New composites series for lightweighting applications / PA 6 organo sheets for automotive sector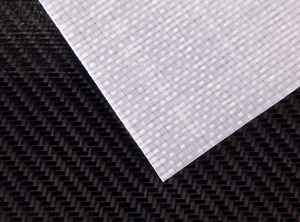 PA 6 organo sheets for automotive applications (Photo: Johns Manville)
US glass fibre products manufacturer
Johns Manville
(JM, Denver, Colorado;
www.jm.com
) has introduced advanced composites technology that expands the use of composites in automotive and other lightweighting markets.
The new "CR-6" series combines formability with high impact resistance through chopped roving (CR) reinforcement. This product enables a range of high-formability applications for thermoplastic sheets. The new "NCF-6" series is reinforced with high-density continuous non-crimp fabric not conventionally possible with organo sheets. Here, the product is said to offer superior strength, stiffness and impact resistance in structural applications. JM's "OS-6" series includes PA 6-based composites sheets reinforced with continuous woven fabric. The complete fibre impregnation enhances impact resistance, strength and stiffness in thermoplastic composites, says the company.
All materials are based on a newly developed technology whereby the reinforcing fibres are impregnated with caprolactam, which is then polymerised to polyamide 6, a company spokesperson told
Plasteurope.com
. The new sheet materials, which are reinforced exclusively with glass fibres for the moment, are currently produced at a pilot plant in JM's technology centre in Littleton near Denver. The installation of a commercial line in 2019 is being planned. The spokesperson said that there is high interest here, without naming OEMs. Apparently, JM also has some evaluation projects in Europe and the US. Engineers from the three European development centres in Bobingen / Germany, Wertheim / Germany and Trnava / Slovakia contributed significantly to the new technology, which the spokesperson said is not limited to glass fibres but can also include carbon fibre reinforcement.
SMC roving introduced
JM has has also introduced "MultiStar 266" rovings for sheet moulding compounds (SMC) reinforcements, where white or light-coloured SMC composites are required. MultiStar 266 is used in low-shrink SMC applications based on polyester resin where high-quality, homogeneous surface appearance is needed. This requirement is important in sanitary applications, mass transportation as well as building and E&E applications.

The company notes that SMC composites are durable, recyclable and can save 30-50% of CO2 emissions during the life-cycle compared to steel. It allows new applications where composite parts do not need to be coated, eliminating the energy-intense steps of painting with significant high-volatile organic compounds (VOC) emissions.
28.03.2019 Plasteurope.com [242091-0]
Published on 28.03.2019
German version of this article...