INTERVIEW
"Balcony singing for the plastics industry" / Guido Marschall from plas.TV talks about his new video series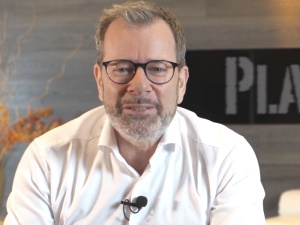 Guido Marschall (Photo: plas.TV)
"Plastics unite(d)" is the name of a new series by
plas.TV
(Friedberg / Germany;
www.plas.tv
), an online channel for the plastics industry.
Plasteurope.com
talked to
Guido Marschall
, the channel's founder and anchorman about what he calls "balcony singing for the plastics industry" during the coronavirus pandemic.
PIE:
"Plastics unite(d)" – what is the idea behind your initiative?
Marschall:
I would like to encourage and give confidence to the people in the plastics industry by showing them that they are not alone in dealing with the coronavirus situation. Every day, the media bombards us with terrible news from all over the world, with numbers of cases and hard facts about the pandemic. So it can't hurt if we as the industry's television channel do what we do best to help those we care about the most. Every day we produce a good-humoured five-minute programme in our plas.TV studio in Friedberg, in which I welcome a guest for a chat. Not in person, but via live feed from his or her home office or company. It works perfectly and is lots of fun.
PIE:
How is it being received by the industry so far?
Marschall:
The series obviously hits the spot and viewers really appreciate what we do. It is quite moving how many and what beautiful responses we receive from people who feel solidarity and draw strength from the fact that other colleagues, comrades-in-arms and also competitors are dealing with the same issues. This creates a real sense of togetherness and many suddenly feel very comfortable again in this plastics industry, which a few weeks ago was still the "scapegoat".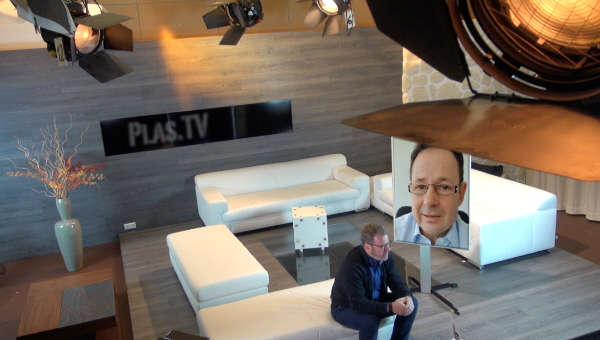 View of the "Plastics unite(d)" set in Friedberg / Germany (Photo: plas.TV)
PIE:
How can you tell?
Marschall:
Since the outbreak of the coronavirus pandemic, the positive properties of plastic products have suddenly become the focus of public attention again. Medical supplies, protective masks, disposable gloves and even packaging for food are things nobody wants to do without these days. I hope that this will be remembered when the crisis is over. In any case, people in the plastics industry are once again extremely proud of what they do. And rightly so.
PIE:
Your project generates expenses – who covers the costs?
Marschall:
The cost of a professionally produced series is immense. But it was urgent and so we didn't want to wait until all the costs were covered by sponsoring partners. So I decided to get started quickly and am paying for most of it out of my own pocket. I am very grateful for the moral and financial support of
Messe Düsseldorf
,
VDMA
(plastics and rubber machinery) and
GKV
, the German association of plastics converters. Every day I fight to get more sponsors so that the series can continue. At least until the crisis is over.
PIE:
And the companies that these speakers come from pay nothing?
Marschall:
That's right. It is important to me that every company can participate and tell its encouraging stories. This is priceless and should remain that way.
PIE:
What does someone who wants to participate as an interview partner have to do?
Marschall:
Just send an email at
info@plas.tv
and apply. The current season is almost completely booked, but as long as we don't run out of money, we will continue to produce the show.
PIE:
What can our readers do to support your initiative?
Marschall:
Watch and share the shows. Whether on LinkedIn, Xing, Facebook, YouTube, Twitter or by email – the more people watch us, the better we will get through this crisis together.
PIE:
Mr. Marschall, thank you very much for the interview.
The following interview is part of the series "Plastics unite(d)"
07.05.2020 Plasteurope.com [244880-0]
Published on 07.05.2020