INTERFACE POLYMERS
UK funding to develop recycling for multi-layer flexible plastic packaging / "Polarfin-Blue" technology enables compatibility between different resins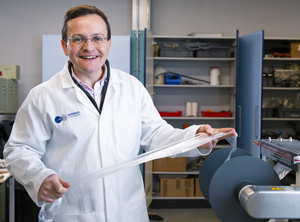 Interface Polymers' founder and chief scientific officer Christopher Kay (Photo: Interface Polymers)
Interface Polymers
(Loughborough / UK;
www.interfacepolymers.com
) has been awarded a grant worth GBP 638,000 (EUR 728,000) from government innovation agency
Innovate UK
(
www.innovateuk.org
) to develop a commercially viable and sustainable solution for recycling multi-layer flexible plastic packaging back into high-value end-uses. Currently, the majority of flexible mixed-plastic film is too difficult and costly to separate and reprocess, other than for limited, low-value uses.
Christopher Kay
, chief scientific officer at Interface Polymers, explained, "When the packaging is remelted with virgin polymers for potential reuse, the different incompatible plastics are repelled from each other like oil and water and this creates voids in the mixture which makes the recycled plastic very weak. This limits its application to low performance and therefore low-value applications."
Under the project, titled "Polarfin-Blue: compatibilisation of polymers to enable recycling", Interface Polymers will use its patented technology to create Polarfin-Blue additive materials, which will enable compatibility between certain thermoplastics in multi-layer packaging that are currently not compatible. The target thermoplastics will be primarily polyolefins, PA, PS and ethylene vinyl alcohol (EVOH) copolymers. "Our new Polarfin-Blue polymer alloys will make it possible to manufacture new mixed plastic packaging products which can be recycled multiple times by existing separation processes," said Kay. "Additionally, recycled material from Polarfin-Blue polymer alloys will retain mechanical property levels for high-value uses and save cost by requiring less virgin material to be used." The company said its approach is based on proven results with a number of non-compatible polyolefin product applications, for instance PE with a PET or PA film.
Interface Polymers has begun development work, having also secured several commercial partners, including a leading polyolefin packaging film producer. Project partner
Thompson Coating Solutions
(Wrexham / UK;
www.thompsoncoating.co.uk
) will be trialling the new layered high-quality films in construction applications. However, Interface's R&D team is seeking more companies to take part in processing trials and application development.
Simon Waddington
, Interface Polymers' business development director, said the company is looking to develop "game-changing" new products beyond the flexible packaging industry into multiple industrial, construction and consumer markets. He commented, "We believe that it will provide an opportunity to expand the polyolefin market, which is currently constrained by limitations around compatibility and specific barrier properties, creating an estimated GBP 200m opportunity in the UK alone."
Interface Polymers was spun out of the
University of Warwick
(Coventry / UK;
www.warwick.ac.uk
) in February 2016.
06.02.2019 Plasteurope.com [241685-0]
Published on 06.02.2019