INEOS STYROLUTION
Final results of chemical recycling project on depolymerising PS back to styrene
Ineos Styrolution
(Frankfurt / Germany;
www.ineos-styrolution.com
) has reported the final results of its "ResolVe" chemical recycling project, funded by the German
Federal Ministry of Education and Research
(BMBF), to convert polystyrene back to its monomer (see Plasteurope.com of
07.11.2019
). The styrenics producer said the project has proved that depolymerisation is a "very appropriate" recycling solution for PS in combination with distillation of the output for further polymerisation. The research showed that up to 75% of the output can be fed into the purification step and subsequently back into the production of new PS.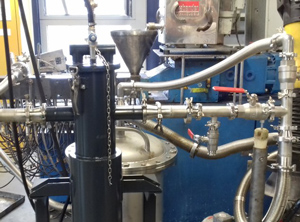 Twin-screw extruder for depolymerisation and attached condensation setup (Photo: ResolVe)
A key part of the project was the investigation of waste composition and the effect on styrene yield, which was done in partnership with the German
Institut für Kunststoffverarbeitung
(IKV, Aachen;
www.ikv-aachen.de
), the
Institute for Processing and Recycling
(I.A.R, Aachen;
www.iar.rwth-aachen.de
) and
Neue Materialien Bayreuth
(NMB, Bayreuth / Germany;
www.nmbgmbh.de
).
Having identified the best process conditions, such as temperature, mass flow rate, residence time and vacuum pressure, IKV transferred these parameters to a larger scale and successfully depolymerised PS to styrene oil. The feasibility of other processes including steam cracking of process residues were assessed together with
Ineos Olefins & Polymers
as project partner.
While the chemical recycling process is sensitive to PET contamination – disclosed by Ineos Styrolution last September – the research has demonstrated that a stable depolymerisation process is possible with a broad variety of feedstock material, with lightweight packaging and EPS waste proving to be the most suitable. The process can also tolerate polyolefin contamination, removing legacy flame retardant hexabromocyclododecane (HBCD) to a large extent, although traces containing bromine remained.
Furthermore, Ineos Styrolution says a life cycle assessment of the technology revealed that producing PS with previously depolymerised material requires less energy and produces 37% less CO
2
(at laboratory scale) than the conventional fossil-based route.
01.07.2020 Plasteurope.com [245434-0]
Published on 01.07.2020