INDIA
Government shelves binding nationwide phase-out of single-use plastics by 2022 / Target "recommended" / Industry slams lack of clarity over rules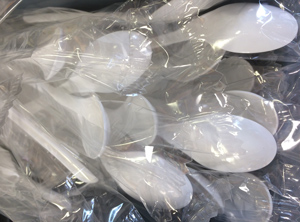 India has softened its previous plans for a ban on disposable plastics (Photo: PIE)
India's ambitious plan to ban single-use plastics by 2020 – later revised to 2022 – see Plasteurope.com of
15.06.2018
– was evidently too ambitious, as many observers at the time suggested. Rather than requiring the phase-out of disposable plastic bags, beverage bottles or cutlery by a set date, the government now will simply recommend that manufacturers and consumers work towards achieving this goal by 2022. The clarification, made via Twitter in response to a Reuters report in early October and followed up by official comments, was the first binding statement from New Delhi since the plans were announced by then-environment minister
Harsh Vardhan
on "World Environment Day" in June 2018. Initial reports said the goal was to reduce the country's annual plastic consumption by around 5%.
In removing the compliance requirement, officials said a ban on single-use plastics would have been too disruptive to industry. Since the 2018 announcement, the lack of definition had emerged as a major obstacle, despite the urgent need to curb plastics waste – India lacks an organised system for collection and recycling, and widespread littering is a major problem.
According to New Delhi's preliminary draft, the phase-out would have applied to plastic water bottles with a volume of less than 200 ml, plastic mineral water pouches, bags without a handle made of plastics or non-wovens and single-trip plastic disposable items including foam, takeaway containers and drinks straws. The country's business sector hit out at a lack of information as to whether the rules would apply to manufacture, consumption or both and whether the phase-out had to be completed by 2022. Also not defined, the complaints pointed out, was whether the national rules would be the same in all states or whether any exemptions would be made.
During the long period of uncertainty, the
Federation of Indian Chambers of Commerce and Industry
(FICCI, New Delhi;
www.ficci.com
) expressed concern that a ban on single-use plastics would increase the price of many plastic products. Additionally, the
All India Plastic Manufacturers' Association
(AIPMA, Mumbai, Maharashtra;
www.aipma.net
) urged the government not to follow the
United Nations
' definition of strictly single use, and the drinking water packaging sector demanded exemptions for PET bottles, which they said are mostly recycled.
In anticipation of a phase-out by 2022, some Indian states and some large consumers of plastics had already drafted their own plans for curbing single-use packaging by the time it was called off. In Odisha state, a ban reportedly took effect on 2 October 2019, imposing rules largely matching the national government's draft. The states of Goa and Andhra Pradesh had also announced bans, along with several municipalities and 55 out of 134 airports nationwide. The national government meanwhile has also phased out plastic water bottles from its Parliament House. By the latest count, India uses about 14m t of plastics annually, Reuters has reported.
18.10.2019 Plasteurope.com [243612-0]
Published on 18.10.2019