HYOSUNG
Carbon fibre capacity expansion plans to 2028 / Hydrogen cars a major growth driver
South Korean industrial group
Hyosung
(Seoul;
www.hyosung.com
) will spend KRW 1 tr (around EUR 760m) to expand capacity from its current one line of 2,000 t/y to a total of 10 lines producing 24,000 t/y. This, said Hyosung, would be the largest capacity of a single plant in the world.
The first expansion is now underway with a 2,000 t/y plant due to be completed in January 2020 and full-scale production starting the following month. Completion of the 10 lines is anticipated by 2028. The company also expects to increase its staff from 400 employees currently to more than 2,300 by 2028. With a theoretical nameplate capacity (which depends on small tow/large tow carbon fibre production) of 24,000 t/y, Hyosung would move up to second in the world – behind market leader
Toray
, which has currently around 42,000 t/y.
At present, total global nominal capacity is 136,500 t/y with some uncertainty from Chinese players.
Kangde
(Beijing / China;
www.kangdegroup.com
) has announced an increase of around 66,000 t/y by 2023 – see Plasteurope.com of
10.10.2017
. The planned investments in Europe and North America – mainly by Toray and the current number two
Teijin
– total around only 13,000 t/y.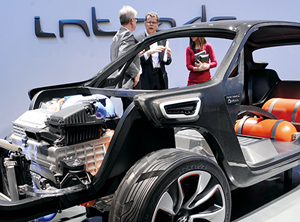 Hyundai's concept car "Intrado" is powered by a hydrogen fuel cell and uses Hyosung's "Tansome" carbon fibre for the car body construction (Photo: Hyosung)
Being one fourth the weight of steel but 10 times stronger and seven times more elastic, carbon fibre has superior corrosion resistance, conductivity and heat resistance, said the Seoul-based group. The material is used in aviation, space and defence applications, but few countries have the technology, Hyosung added.
Carbon fibre is also regarded as a key material in the hydrogen economy, because it is used to wrap vehicles' fuel tanks. In January 2019, the South Korean government announced a roadmap to revitalise the hydrogen economy. Consequently, Hyosung plans to expand the number of hydrogen-fuelled cars from around 1,800 (in 2018) to about 81,000 by 2022 and around 6.2m by 2040. The carbon fibre market for hydrogen fuel tanks is forecast to grow more than 120 times by 2030, the company said. Hyosung chairman
Hyun-Joon Cho
said, "As the hydrogen economy has opened a new market of carbon fibre, we will play a pivotal role in making Korea a 'material powerhouse'."
The company announced its investment plans on 20 August at a ceremony in Jeonju / South Korea, at Hyosung Advanced Materials' carbon fibre plant. Here, Hyosung signed deals with the government and local municipalities, including Jeollabuk-do and Jeonju, for the plant expansion and investment support. It also signed a memorandum of understanding (MoU) aimed at strengthening cooperation with the Ministry of Trade, Industry and Energy and relevant companies such as
Iljin Materials
(Iksan-si / South Korea;
www.iljinm.co.kr
) and
Korea Aerospace Industries
(KAI, Sacheon / South Korea;
www.koreaaero.com
).
13.09.2019 Plasteurope.com [243386-0]
Published on 13.09.2019
German version of this article...