HP
Investment in plastics washing line in Haiti to tackle marine litter / Recycled waste used in ink cartridges
US technology firm
HP
(Palo Alto, California;
www.hp.com
) has announced plans to invest USD 2m (EUR 1.8m) in a new plastics washing line in Haiti that will allow the company to produce cleaner, higher quality recycled plastics locally for use in its products. The washing line, said HP, will also enable Haiti to expand its recycling capabilities and compete better on the international plastics market.
HP has been involved in a project with recyclers
Lavergne
(Montréal, Québec / Canada;
www.lavergne.ca
) and
Environmental Cleaning Solutions
(ECSSA, Port-au-Prince / Haiti;
www.ecssahaiti.com
) to reduce ocean-bound plastics in the Caribbean country since 2016. The company at the same time began collaborating with the "First Mile Coalition" to convert plastic bottles into recycled material for use in HP "Original" ink cartridges.
The First Mile Coalition is an initiative set up by US non-governmental organisation (NGO)
Work
(Los Angeles, California;
www.dowork.org
) to address the problem of child labour in Haiti and provide children with medical care, education as well as job training and placement. According to HP, the coalition's efforts have already diverted about 324,772 kg of plastics – or more than 25m bottles – from entering the oceans and waterways, repurposing the waste into ink cartridges. HP added that since 2000, it has converted more than 90.3m kg of recycled plastics into 3.9 bn HP Original ink and toner cartridges.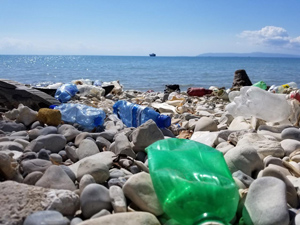 More than 25m plastic bottles collected in Haiti will be upcycled into new HP ink cartridges – saving around 325 t of plastic material from spilling into the Carribean Sea (Photo: HP)
In addition, HP and Work have opened two learning centres equipped with HP laptops and printers. The US company said the collaboration has already helped 100 children and will create more than 1,000 new income opportunities. "Our investments and partnerships in Haiti are a great example of the positive change that can happen when businesses and NGOs come together to support shared objectives," said
Ellen Jackowski
, HP's global head of sustainability strategy and innovation.
In October 2018, HP partnered with NGO
NextWave Plastics
(New York, New York / USA;
www.nextwaveplastics.org
) to join similarly focused companies that are dedicated to integrating ocean-bound plastics into their product supply chains. The coalition has set a goal to divert a minimum of 25,000 t of plastics – equivalent to 1.2 bn single-use plastic water bottles – from entering the ocean by the end of 2025.
HP has just released a global survey of 20,000 participants that found 61% of workers believe sustainability is mandatory for businesses. It said results showed that employees were more productive, motivated and engaged when working for a company that leads in social responsibility.
The company added that the survey also uncovered the misconceptions around the purchase and disposal of ink and toner cartridges in the workplace. It pointed out that many were unaware that imitation cartridges cannot be recycled, with 97% ending up in landfills.
11.06.2019 Plasteurope.com [242608-0]
Published on 11.06.2019