HORIZON EUROPE
Industry calls on EU council for bigger research budget / Planning starts on programme's first four years
A total of 78 European industry associations – including
European Plastics Converters
(EuPC, Brussels / Belgium;
www.plasticsconverters.eu
), the
European Chemical Industry Council
(Cefic, Brussels;
www.cefic.org
), the
European Composites Industry Association
(EuCIA, Brussels;
www.eucia.eu
),
PlasticsEurope
(Brussels;
www.plasticseurope.org
) and
European Bioplastics
(Berlin / Germany;
www.european-bioplastics.org
) – are urging the
European Council
to raise the budget for the upcoming "Horizon Europe" research and innovation programme to at least EUR 120 bn (in 2018 prices).
In a jointly signed statement, they are also asking for at least 60% of that sum to be dedicated to the programme's second pillar, "Global Challenges and European Industrial Competitiveness", which aims to address societal challenges and industrial technologies in areas including digital, energy, mobility, food and natural resources. This pillar, the signatories said, is the "truly collaborative" part of Horizon Europe, "breaking silos to promote the flow of knowledge between public research and industry." It is also crucial for building long-term trust-based partnerships, reducing risk and uncertainty and stimulating business investment in Europe, they added.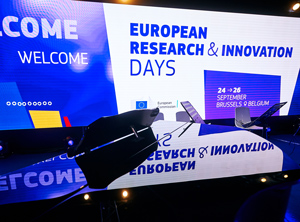 At the first "European Research and Innovation Days" event in Brussels in September, the EU's next research and innovation programme, "Horizon Europe", was one topic of discussion (Photo: European Union)
Horizon Europe is the EU's proposed seven-year research initiative that will succeed the current "Horizon 2020" programme. It has made various pledges that include boosting Europe's future growth, employment and competitiveness, securing the region as one of the frontrunners of the technological revolution as well as developing and scaling up technologies to power the continent in the 21st century.

Getting a sufficient budget for Horizon Europe would mean creating up to 100,000 jobs in research, development and innovation (RD&I) activities between 2021 and 2027 while also yielding EUR 11 of GDP for each euro invested over 25 years, the associations said. They also pointed out that European RD&I spending is relatively low compared to its global competitors.

From 24-26 September 2019, researchers, academics, businesses, decision makers and parliament representatives from across Europe convened to shape the priorities and strategic plan for the first four years of Horizon Europe (2021-2024). As well as this three-day event, the European Commission held a web-based consultation from 28 June 2019 to 4 October 2019, which received more than 600 responses from member states. The input from these two initiatives will feed into the planning process, which is focused particularly on the second pillar and will create the first "Horizon Europe Strategic Plan (2021-2024)". The plan will identify the major policy drivers, strategic policy priorities and targeted impacts to be achieved as well as missions and European partnerships.

The European Parliament and council reached a political agreement on Horizon Europe in April 2019. However, the legal bases have yet to be settled, including the EU's long-term budget (2021-2027).
14.10.2019 Plasteurope.com [243604-0]
Published on 14.10.2019