HIGH PERFORMANCE COMPOSITES
US demand to reach USD 10.3 bn in 2016 / Gains driven by aerospace applications / Carbon-fibre composites will see largest growth / Freedonia reports
Driven by strong growth in the commercial airliner market and new opportunities in wind energy and pressure vessels, US demand for performance composites is expected to grow by 15% a year to 2016, when it will reach an overall market value of USD 10.3 bn, a new study by market researcher
Freedonia
(Cleveland, Ohio / USA;
www.freedoniagroup.com
) predicts. Growth levels are expected to improve significantly on the back of the comparatively slow gains made from 2006-2011, characterised by a weak aerospace market and declines in military applications. Despite the anticipated gains, as a result of their high cost and labour-intensive production, high-performance composites will remain confined to exclusive applications, the report, titled "High Performance Composites", maintains.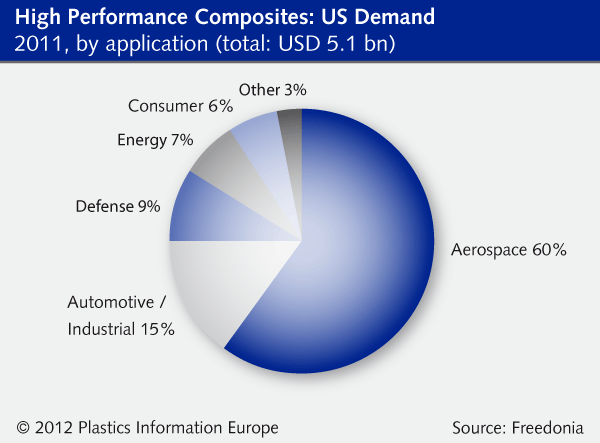 Aerospace applications will continue to account for the largest share of US performance composites demand in 2016, as the materials are increasingly carving out a role for themselves in the commercial airliner segment, too. Leading drivers are not only the production of Boeing's 787 Dreamliner – which has about 50% composites content – but also the Airbus A 380 and A350 XWB. Another key growth application is the wind energy market, where advances will be driven by rising wind turbine installations and the increased use of carbon fibre composites.

By comparison, growth in defense and safety applications is anticipated to be much slower as the US continues to reduce the number of combat troops in Iraq and Afghanistan. Already quite mature, growth in the sporting goods market will also be slow. Given the materials' high cost and slow production process, applications in the automotive sector – which holds a lot of promise for high-performance composites, will also see only slow growth figures, the report says.

Characterised by high strength and stiffness, light weight and high durability, high-performance composites were traditionally confined to military uses as well as the high-end sporting goods sector. As production processes evolved, however, and low-cost carbon fibres became increasingly available, their use has gained in popularity, Freedonia says.

Up to 2016, the study predicts, carbon fibre composites will see the largest growth rates, and are expected to account for 84% of the total high-performance market by 2016. Demand for S-glass fibre composites is also expected to increase by double-digits thanks to growth in the aerospace, wind energy and pressure vessel markets. By contrast, Freedonia predicts slower growth rates for composites based on aramid and other fibres – largely as a result of the slower growth in the defense and safety markets.
10.07.2012 Plasteurope.com [222789-0]
Published on 10.07.2012