HEXCEL / ARKEMA
Composites consortium secures funds of EUR 6m with Bpifrance / Lightweight materials for aerospace, automotive, oil and gas
French investment bank
Bpifrance
(Paris;
www.bpifrance.fr
), has approved and awarded a grant of EUR 6m under France's "Investissements d'Avenir" programme to
Hexcel
(Stamford, Connecticut / USA;
www.hexcel.com
),
Arkema
(Colombes / France;
www.arkema.com
) and partners for their "HAICoPAS" (Highly Automatized Integrated Composites for Performing Adaptable Structures) project.
HAICoPAS, which has funds of EUR 13.5m and a duration of four years, aims to optimise the design and manufacturing of unidirectional (UD) tapes in view of their use in highly productive, cost-competitive composite part production. The project is also targeting the development of a UD tape placement technology as well as a new system that enables the assembly of final components by welding with in-line quality control.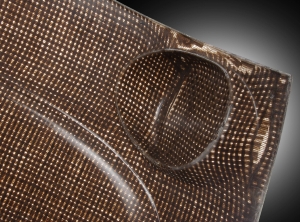 The collaboration is focused on lightweight composite materials (Photo: Arkema)
The partners said the main objective is to provide lightweight materials at competitive cost for applications such as primary aerospace structures, high-volume structural automotive parts as well as oil and gas pipes. The consortium added that the recyclability and environmental benefits of the thermoplastic materials and technologies developed within the project will be fully demonstrated and quantified.
Hexcel and Arkema are leading the collaboration together with French industrial partners
Ingecal
(Chassieu;
www.ingecal.fr
),
Coriolis Composites
(Quéven;
www.coriolis-composites.com
),
Pinette Emidecau Industries
(PEI, Chalon-sur-Saône;
www.pinetteemidecau.eu
),
l'Institut de Soudure
(Paris / France;
www.isgroupe.com
) and academic organisations
French National Centre for Scientific Research
(CNRS, Paris;
www.cnrs.fr
) and
Laboratoire de Thermique et d'Energie de Nantes
(LTeN, Nantes / France;
www.polytech.univ-nantes.fr/ltn/fr/
). The latter two will provide scientific support from their laboratories, where they will develop the basic understanding for optimising the materials together with processing and long-term behaviour in service conditions.
Ultimately, HAICoPAS aims to generate a complete lightweighting supply chain for the aerospace, automotive as well as oil and gas industries, by supplying carbon/thermoplastic UD tapes produced by Hexcel or Arkema, together with associated composite part manufacturing and assembly lines (industrial partners).
18.07.2019 Plasteurope.com [242952-0]
Published on 18.07.2019