GREECE
"Plastic needs to be part of the solution and not part of the problem" / Vassilis Gounaris is next president of AHPI / Consumer perceptions need changing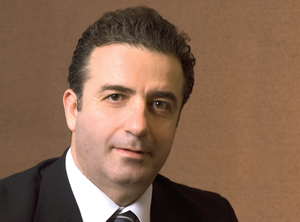 Vassilis Gounaris (Photo: AHPI)
Vassilis Gounaris
has been the new president of the
Association of Hellenic Plastics Industries
(AHPI, Athens / Greece;
www.ahpi.gr
) since May 2019. He replaces
Dimitrios Syrmos
(see Plasteurope.com of
07.12.2018
), who remains a member of the board of directors and is responsible for AHPI's public relations. Gounaris has been managing director of
BASF Hellas
since 2009 and is also president of the
Hellenic Association of Chemical Industries
(HACI, Athens;
www.haci.gr
).
According to AHPI, more than 1,000 companies are active in Greece's plastics industry, which had an estimated 16,000 employees in 2018. The Greek plastics sector was valued at approximately EUR 1.9 bn in 2017.
Challenges and a new marine waste partnership
In an interview with local media, Gounaris said the current situation with the plastics industry is particularly important because "plastic is internationally attacked," while its contribution to improving people's lives is often downplayed. As AHPI president, he would like to bring together members of the industry in and outside of the Greek association in order to deal with the challenges the plastics industry faces – the most important being consumers' perception about plastics. Gounaris sees the AHPI as contributing to making it clear to policy-makers that in order to manage major challenges such as climate change, waste management, sustainable development and transitioning to a circular economy, "plastic needs to be part of the solution and not part of the problem, as it has been dealt with so far."
Regarding the EU's single-use plastics directive, Gounaris said the AHPI is collaborating with European partners to co-design the industry's agenda on single-use plastics as well as responding to the "extended misinformation" within Greece. He added that domestic plastics recycling is seeing delays in the implementation of waste legislation, both nationally and regionally, and recycling infrastructure is "low and underperforming." The public also needs to be better informed about correct disposal practices, such as for packaging materials.
With the election of the new Greek government on 7 July 2019, Gounaris says the AHPI will be discussing various issues that are pertinent to the plastics industry. Also in July, AHPI partnered with
BlueCycle
(Piraeus / Greece;
www.bluecycle.com
), a programme that aims to recycle plastics waste from shipping and fishing activities by creating high-quality recyclate for the industry. The programme operates under the auspices of the
Aikaterini Laskaridis Foundation
(Piraeus;
www.laskaridisfoundation.org
), a Greek NGO focused on maritime tradition and history.
AHPI has commissioned the
Foundation for Economic & Industrial Research
(IOBE, Athens;
www.iobe.gr
) for a study on the Greek plastics industry's contribution to the domestic economy. The study aims to provide a detailed evaluation of the sector's financial footprint and showcase opportunities and challenges for its development in Greece.
08.08.2019 Plasteurope.com [243110-0]
Published on 08.08.2019