GRAMMER
Defensive move has initially failed / Hastor manoeuvrings put automotive seat manufacturer under threat again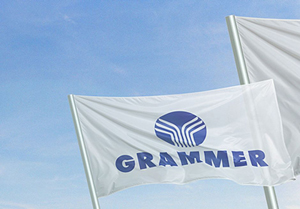 Another six weeks until the general meeting that will decide everything (Photo: Grammer)
A refined move by automotive supplier
Grammer
(Amberg / Germany;
www.grammer.com
), which involved selling a stake to partner
Ningbo Jifeng Auto Parts
(Ningbo, Zhejiang / China;
www.nb-jf.com
) in a bid to ward off the acquisition of control by Bosnian entrepreneur family
Hastor
, has initially ended in failure. An injunction issued by the Nuremberg-Fürth regional court, at the instigation of Hastor supplier group
Prevent
, has stopped Ningbo Jifeng from completing the conversion process for its convertible bond as planned. The German antitrust authorities are required to approve of the participation prior to the conversion into 9.2% of the shares.
Six weeks prior to the general meeting on 24 May 2017, the Grammer management headed by CEO
Hartmut Müller
has its back to the wall once again. The company is admittedly intending to appeal against the decision, but time is running out.
The two Hastor holding companies of
Halog
and
Cascade
currently hold at least 20.22% of the voting rights in Grammer. Because the two companies are separate entities on paper, however, the figure could now be as high as 30%, since a mandatory announcement is only necessary once a company holds 15% of the shares. In the light of the average 45% participation at Grammer shareholder meetings over the past few years, the Hastor family's share package could be sufficient to push through motions. Previously-voiced demands include the replacement of the supervisory board and the removal of Müller from his post.
Grammer is thus endeavouring to motivate all shareholders to attend, amidst reports that it is also receiving support from car makers, including
VW
. This non-confirmed commitment doubtless has its origins in the dispute that arose between VW and Prevent last year – a previously unheard of situation in the industry (see Plasteurope.com of
30.08.2016
). According to Grammer, the OEMs are keeping a close eye on developments. If the Hastor family were to acquire control, this could "jeopardise our longstanding customer relationships and hence our future order situation", explained a spokesperson from the Amberg-based company in response to an enquiry by
Plasteurope.com
.
21.04.2017 Plasteurope.com 977 [236702-0]
Published on 21.04.2017
German version of this article...