GLOBAL TRADE
IFW Kiel: World commerce steadies after war rattles markets / Container shipping congestion remains high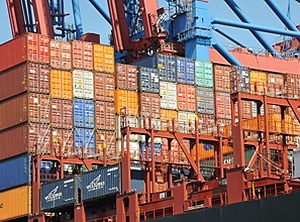 US exports likely showed strong growth in April (Photo: PIE)
After the turbulence caused by Russia's invasion of Ukraine, trade in goods is now stabilising for numerous countries and the world as a whole. According to the latest trade indicator from Germany's
Kiel Institute for the World Economy
(IfW Kiel;
www.ifw-kiel.de
) for April 2022, global trade likely increased 2.1% from the previous month (price and seasonally adjusted). For the EU, ship movements suggest positive developments compared to March, with exports likely to increase 0.7% and imports set for a rise of 1.1%. In Germany, Europe's largest economy, exports are forecast up 3.2% and imports 1.4% higher.
"The first shockwaves of the Russian invasion of Ukraine on global trade seem to have died down and April trade data are stabilising," said
Vincent Stamer
, who oversees the indicator. "Almost all major economies can expect growth or at least sideways movement."
Related:
Geopolitical events hurt trade flows
In the US, April exports are forecast to grow 5%, while imports are expected slip 1.4%. China is showing signs of stagnation, with exports seen unchanged and imports off 0.9%.
"While the lockdown in Shanghai is holding back China's export growth, declines in trade appear to be limited to the port of Shanghai," Stamer said. The Chinese government's zero-Covid policy with its rigorous lockdowns has putting massive pressure on global supply chains and worldwide commerce in April (see Plasteurope.com of
22.04.2022
). "The gap in goods exports compared to China's other ports has levelled off at around 25%. But that also means that despite the lockdown, the majority of all goods still leave the port, which is a good sign for the global supply chains.", the economist added.
Russian trade shift possible
Russian trade is showing signs that it is bottoming out in April after the sometimes severe slumps. Compared to March, exports are likely to fall a moderate 1.6%, and imports could increase 2.3%. "Russia may start substituting imports from Europe with imports from Asia," Stamer noted. "This is supported by the fact that significantly more container ships have recently called at the port of Novorossiysk in the Black Sea, while the port of St. Petersburg, which is involved in European trade, is continuing to record declines."
He said, "It is all the more important to create economic incentives for countries like India to move closer to Europe and not to Russia."
Congestion in the global container ship network remains high, with around 11% of all goods shipped worldwide stuck in traffic jams.
Related:
Logistics: Disparate moves for shipping costs
11.05.2022 Plasteurope.com [250236-0]
Published on 11.05.2022
German version of this article...