GERMANY
Medical mask production gets going / Two plants for nonwovens poised to come online
Before the full force of the coronavirus pandemic hit Europe, masks for the European market were produced almost exclusively in China. This situation is now changing. Within the space of several weeks, supply chains have been reconfigured, capacities boosted at nonwoven production plants and production lines converted.
"Over the past few years, the cost situation has meant there has been no demand for disposable medical masks on our European markets, nor for the so-called community masks, which are the simple everyday masks that are now mandatory in all German states for going shopping and using public transport," said a spokesperson from the German textile and fashion industry association
textil+mode
(Berlin;
www.textil-mode.de
).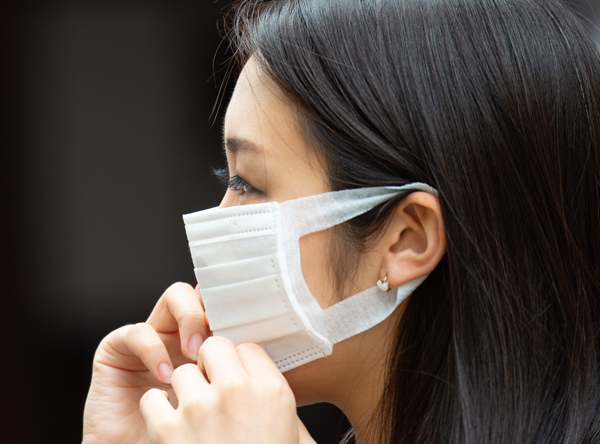 Mondi is adapting its production line in Germany to produce the needed components for masks (Photo: Mondi)

The association represents around 1,400 primarily mid-sized companies in Germany, with a total of around 135,000 employees and annual sales of EUR 34 bn. Approximately 30% of sales come from engineering textiles – apart from the nonwovens for mask production, which are also used in automotive, aviation, environmental and energy applications as well as in the medical and construction sectors – while the remaining 70% of sales stem from clothing, home textiles, yarns and fabrics.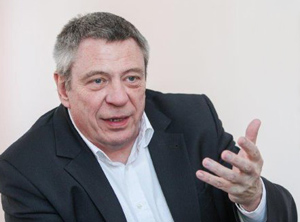 Uwe Mazura (Photo: textil+mode)
Demand for personal protective equipment has skyrocketed across Europe. German federal health minister
Jens Spahn
is talking in terms of 450m special FFP2 masks and 1 bn surgical masks for 2020 in Germany alone. A survey conducted by the textil+mode association during the last week of April revealed that some 22m masks a week are being produced by its members in Germany, and this figure is rising. "A good 40% of our companies have now made the move into mask production," said textil+mode managing director
Uwe Mazura
.
Employees from German fashion brands such as
Trigema
,
Eterna
,
Seidensticker
,
Rösch
and
Speidel
are currently pressing hard on the pedals of their sewing machines. The textile and fashion industry association is also providing support on the topic of "certification". The nonwovens sector is similarly getting into a "start-up mentality" (see Plasteurope.com of
24.04.2020
).
Sandler invests in production of nonwovens for masks
Supply chains are being reconfigured, nonwoven production capacities boosted and entire manufacturing lines converted.
Sandler
(Schwarzenbach / Germany;
www.sandler.de
), which claims to be one of the world's 20 biggest nonwoven producers with sales of EUR 322m, is investing in an additional line for polypropylene nonwovens for masks at its Schwarzenbach site. Production is scheduled to start midway through the third quarter of 2020, and the new plant's annual capacity will provide additional nonwovens for up to 800m masks. Sandler says a sum in the "single-digit-million euro range" has been earmarked for this.
"Demand for our nonwovens for respiratory masks is continuing unabated – and has been for many weeks. Even though production has been running round-the-clock, seven days a week, since February 2020, we can only accept new orders from respiratory mask producers as of June," said board chairman
Christian Sandler
.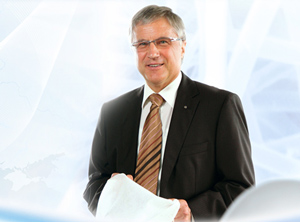 Christian Sandler (Photo: Sandler)
While the market for respiratory masks is booming, the current global economy will also make its mark on Sandler. The industrial sectors particularly affected by the shutdown, which include the automotive, construction and furniture industries, are important sales drivers for this company too – "we are faced with a challenging market environment here," a company spokesperson said. "At present, however, there are no plans to apply for compensation for short-time working."

Sandler welcomes the fact that the federal government is intending to address the shortage of material in Germany and Europe by promoting investments such as these and that federal health minister Spahn is "even performing valuable facilitation work with the relevant machine building companies."
National value-added chains for personal protective equipment
The German government set up a procurement unit at the federal ministry of health on 30 March 2020 to coordinate and organise the short-term procurement of personal protective equipment. Alongside this, a new "production capacities and production processes" taskforce was set up in the ministry for economic affairs and energy. This is supporting the rapid development of national and European value-added chains for medical supplies in Germany and the EU, and thus making a major contribution to securing supplies over the medium term.
Manufacturers of spunbond nonwovens in Germany will receive a subsidy of 30% for the investment costs of their systems if they undertake to start production already in 2020.
The assurance that the industry's investments will be secured by purchasing and price commitments from the federal government is valid until the end of 2021 in the first instance.
Bernd Reifenhäuser
, CEO of the
Reifenhäuser
group (Troisdorf / Germany;
www.reifenhauser.com
), which has temporarily converted two test lines in its
Reicofil
development plant and has been producing nonwovens for respiratory masks since mid-March (see Plasteurope.com of
27.03.2020
), regards the measures as correct but sees scope for finetuning. "We feel that the programme should run for longer. The high-quality machines that we need to ensure quality and our long-term international competitiveness will not have paid for themselves by the end of 2021."
Reifenhäuser is additionally calling for a strategic production reserve for personal protective equipment in Europe. "If machine capacity is not built up rapidly, we will still be dependent on others at a decisive point in the supply chain. Other countries recognised this much earlier on in some cases and have already ordered systems."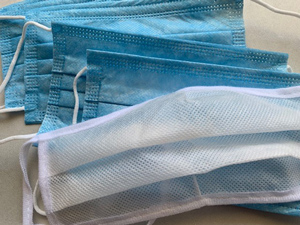 Demand for nonwoven masks is running into the billions (Photo: PIE)
For the spunbond line that
Berry Global
(Evansville, Indiana / USA;
www.berryglobal.com
) will be using to produce filter material for FFP2 (N95) and FFP3 (N99) respiratory masks in France as of June 2020, Reifenhäuser Reicofil has managed to reduce its delivery time by one third to 3.5 months. The line, which has a width of 1.6 m and is equipped with electrostatic charging technology, will be bringing additional processing capacity of between 365 t and 550 t onto the market, depending on the material, which will benefit the EMEA economic area.
No investment is currently planned, by contrast, at
Mailinger
(Scheuerfeld / Germany;
www.mailinger.de
), a company specialising in nonwovens for medical applications. Its products include wound dressings, protective suits and gowns made from polyethylene, polypropylene, polyester, viscose, PAN, polyamide 6, polyamide 6.6 and bicomponent fibres. Managing director
Markus Mailinger
is critical of the government's subsidy plans. The state of Hessen, where his production is located, is also offering a 30% subsidy, but "this will not prompt companies to buy a EUR 10m machine to produce spunbond nonwovens if everyone is going to be buying in China again as of 2023."
Nonwovens producer takes up mask production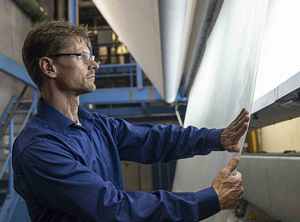 The world's largest nonwovens manufacturer has moved into mask production (Photo: Freudenberg)
The world's largest nonwovens producer
Freudenberg
(Weinheim / Germany;
www.freudenberg.de
), which has not only been producing the nonwoven material since the end of April 2020 but has also rapidly built up a mask production unit at its site in Kaiserslautern / Germany, is planning to further expand capacity over the next few weeks. The company aims to produce around one million masks a day, operating four shifts round-the-clock. Freudenberg has invested "several million euros" in development, machinery and reequipping its work areas to meet the hygiene requirements, a spokesperson told
Plasteurope.com
. In addition to this, flat goods are still being supplied to professional clothing manufacturers and existing customers.
Packaging producer
Mondi
(Johannesburg / South Africa;
www.mondigroup.com
) has also reacted to the procurement bottlenecks by switching its production. Instead of babies' nappies, incontinence pads for adults and feminine hygiene articles, its plant in Gronau / Germany is now producing flexible, elastic retaining straps for face masks. "We are working on producing straps for more than a million nonwoven face masks," said
Michael Trinkaus
, Mondi's director R&D and Application Technology Personal Care Components.
At the end of March 2020, the
German Institute for Standardisation
(DIN, Koblenz;
www.din.de
) acting in consultation with the
European Commission
and with the support of the
European Committee for Standardisation
(CEN) and the
International Organization for Standardization
(ISO), made a series of standards for medical products and personal protective equipment available free of charge. This has proved to be a great success, with the publications having been downloaded more than 70,000 times.
12.05.2020 Plasteurope.com [244993-0]
Published on 12.05.2020
German version of this article...