FLEXIBLE PACKAGING
Ceflex commissions packaging waste study in Europe / First-of-a-kind analysis to define and accelerate shift towards a circular economy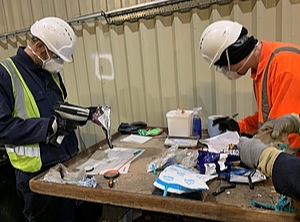 The study aims to accelerate the shift to a circular economy (Photo: Ceflex)
European flexible packaging consortium
Ceflex
(Brussels;
www.ceflex.eu
) is carrying out a study with partners,
Polyolefin Circular Economy Platform
(PCEP, Brussels;
www.pcep.eu
),
Petcore Europe
(Brussels;
https://petcore-europe.org
),
Styrenics Circular Solutions
(SCS, Brussels;
www.styrenics-circular-solutions.com
) and
More Recycling
(
www.morerecycling.com
), to understand the amounts and types of post-consumer flexible and rigid plastic packaging in waste streams, to accelerate the shift to a circular economy.
The research, which Ceflex said is the first in-depth analysis of its kind in Europe, is being conducted by environmental consultancy
Resource Futures
(Bristol / UK;
www.resourcefutures.co.uk
), which will analyse and compare the composition of packaging, such as wrappers, bags, pouches, bottles, trays and tubes, found in waste and recycling streams in seven key markets. "This is vital information about how material flows through the system today – and what collection, sorting and recycling solutions are required to deliver a circular economy for flexible packaging and other packaging materials," said Ceflex project coordinator
Graham Houlder
.
The fieldwork took place in December 2020 at two UK sites operated by waste management company
Suez
(Paris / France;
www.suez.com
), and work on waste samples from France, Germany, Italy, The Netherlands, Poland and Spain is scheduled to be carried out in spring 2021.
Houlder said that initial results from the UK analysis show significant quantities of recyclable materials remaining in the mixed waste stream, suggesting the need to improve their capture and reuse. These insights can help extended producer responsibility (EPR) and other schemes to pinpoint what is needed to go circular, and thus fine tune eco-modulations, Ceflex said, adding that this will encourage the design of flexible packaging, boosting the amount of recycled content in a variety of end-market applications.
23.03.2021 Plasteurope.com [247255-0]
Published on 23.03.2021