FLAME RETARDANTS
Global annual growth of over 5% predicted / Demand to reach 2.6m t in 2016 / Rising safety and environmental standards drive use of non-halogenated chemicals / Asia remains fastest growing region / Freedonia report
Global demand for flame retardant additives is forecast to rise by 5.4% annually, reaching 2.6m t in 2016, according to a recent report – "World flame retardants" – published by US market researcher
Freedonia
(Cleveland, Ohio;
www.freedoniagroup.com
). Growth will accelerate from the period 2006-2011 when demand was severely impacted by the global economic slowdown, particularly in the mature markets of the US, western Europe and Japan.
In addition to an improved economic outlook, more stringent safety and flammability standards, particularly in the developing world, and the rising use of plastic products instead of less flammable materials will contribute to the increased demand. The report says that concerns about the potential impact of halogenated flame retardants on health and the environment have considerably altered the product mix.
Aluminium trihydrate, the leading flame retardant product by volume, is expected to post above-average gains in demand through 2016, driven by trends towards non-halogenated chemicals, says Freedonia. Even more rapid advances, however, are forecast for boron compounds, largely because of increased demand for cellulosic insulation in building construction.
Brominated flame retardants have come under increased scrutiny, and a combination of government regulations and image-conscious product manufacturers have led some suppliers to phase out certain products.
In Europe, the European Commission has placed hexabromocyclododecane (HBCD), a flame retardant used in expanded polystyrene insulation, on the list of substances requiring registration in Annex XIV of the REACH regulation because of its persistent – or non-biodegradable – properties. If manufacturers fail to apply for approval from the
European Chemicals Agency
(ECHA, Helsinki / Finland;
http://echa.europa.eu
) by 21 February 2014, customers will not be allowed to use it after 21 August 2015 - see Plasteurope.com of
16.07.2012
.
Additionally, although chlorinated flame retardants, which are harmful to the environment, continue to enjoy high levels of demand in less developed parts of the world, countries such as China are rapidly moving away from them, spurring robust demand growth for other flame retardants, Freedonia says.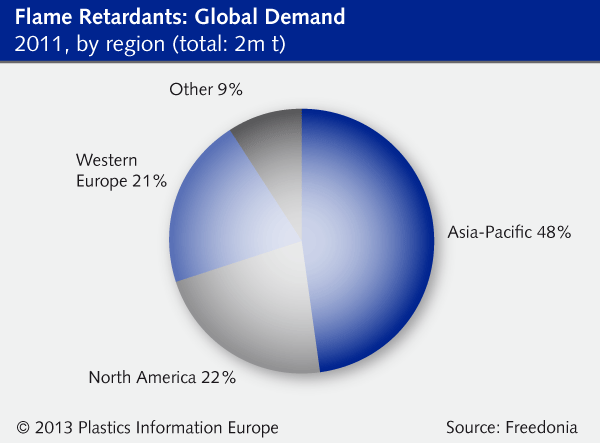 Geographically, the Asia/Pacific region will continue to be the largest and fastest growing market for flame retardants, accounting for over half of world demand in 2016. Growth in the Chinese and Indian markets is forecast at over 8% per year, with strong increases in Thailand as well as in other less developed countries in the region. Solid growth will also be seen in major electronics-producing countries such as Taiwan and South Korea. Gains in North America will be driven by above average growth in the US and Mexico and rapid expansion in Brazil will drive strong increases in central and south America. Demand in western Europe will rise at a subdued pace, although it will rebound from the declines seen in the period 2006-2011, according to the researcher.
12.03.2013 Plasteurope.com [224742-0]
Published on 12.03.2013
German version of this article...