FAKUMA
German trade show with masks: 27th fair in Friedrichshafen / Restart after one-year pandemic break / More time for discussions with 25% fewer exhibitors / Focus turns to K 2022
In the last few weeks and months, "Fakuma 2021" has frequently been a subject of lively discussion and much speculation. For a long time, it was unclear whether the trade fair would be able to take place at all, or whether it would again fall victim to the pandemic. The question regarding exhibitors was asked time and time again: How many of them would make their way to Friedrichshafen / Germany, and what machines would they have in their luggage? Last but not least, of course, the mother of all questions: Would the show prove to be the customary visitor magnet for the plastics industry, or would it end up deserted?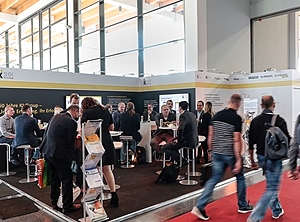 Visitors are invited to the KI Group booth for refreshments during the "Yellow Hour" (Photo: PIE)
On 12 October 2021, Fakuma opened its doors for the 27th time (see Plasteurope.com of
12.10.2021
). This time it was a trade show with face masks, but it had people on the show floor. What is immediately striking on walking through the exhibition site is that the halls are emptier than usual. Although motors are humming, robots are whirring, granules are rattling, and it smells of coffee and plastic, there are wide gaps between the stands.
The official figures reported by fair organiser
Bettina Schall
(
P.E. Schall
; Frickenhausen / Germany;
www.schall-messen.de
) confirm this impression: with 1,470 exhibitors, the number has fallen by around a quarter compared with Fakuma 2018. And it is less international than before: the majority of the companies come from Germany (880), Italy (118), Switzerland (86), and Austria and France (both 71). Asian exhibitors are rare.
The number of visitors has also fallen significantly. Whereas in past years, the masses constantly clogged the aisles and the spaces between the booths, Fakuma 2021 is able to offer guests the comfort of ambling around at ease. No shoving or jostling anywhere. Although the exhibition's organisers have not yet announced any official figures on the number of visitors, the exhibitors have all, without exception, confirmed to
Plasteurope.com
that there are far fewer people waiting to see exhibits, evidently also because the rigid coronavirus-orientated travel policy of so many major companies does not allow its employees to go on visits to trade fairs.
Screens instead of machines
Less quantity does not, however, necessarily also mean less quality. "Although the masses are missing," one told PIE, "there are still many decision-makers out there, and the discussions are good." A large number of trade visitors also saw a positive side to the greater clarity of the "new normal": "The stress of rushing around to meet deadlines that we experienced at past exhibitions does not exist this year," said a visitor to KI Group's exhibition stand (Booth Ost 02), while at the same time, the intensity of talks has increased. Indeed, spontaneous meetings have even been possible this year.

As far as the topics are concerned, nearly everything at this year's Fakuma revolves around the two current mega-trends in the industry – digitalisation and circular economy. Anyone wanting to find out more in Friedrichshafen about energy and resource-saving production technologies or the latest developments in the field of recycling technology can do so more or less everywhere. Apart from that, Covid-19 has evidently given the plastics industry a further nudge towards digitalisation. Many exhibits and displays on the company booths involve topics such as self-regulating production, process automation and increasing efficiency through connectivity. Many exhibitors have dispensed with the complicated procedure of bringing along their machines and setting up production lines. Instead, they have opted for the informative value of large-format screens: "Screen instead of machine" is the name of this trend.

The final proof of whether Fakuma 2021 will go down in history as a hit or miss is not likely to emerge until a few weeks after the show, if and when the business and transactions discussed at the exhibition actually turn into invoiceable orders.

But one thing needs to be remembered: in-person trade fairs have definitely not in any way whatsoever become redundant when it comes to serving as a platform for B2B exchange. The traditional adage "as soon as one trade show ends the next one begins" still applies. Exhibitors and visitors alike were frequently heard saying goodbye to one another at Fakuma with the words: See you next year in Düsseldorf at "K 2022" – with or without mask!
15.10.2021 Plasteurope.com [248767-0]
Published on 15.10.2021
German version of this article...