EUPC
Annual meeting focuses on circular economy and sustainability / Cooperation between producers and converters to be intensified / New members elected to steering committee
Only through collaboration along the entire value chain will the plastics segment succeed in mastering the current challenges and conveying plastics into a circular economy. This was emphasised by representatives of companies and trade associations on both the processing and production sides at the
European Plastics Converters
' (EuPC, Brussels / Belgium;
www.plasticsconverters.eu
) annual meeting and conference in Berlin on 13 and 14 June 2019. For example, the EuPC and
PlasticsEurope
(Brussels;
www.plasticseurope.org
) intend to work closer together in future.
Poor image is damaging the industry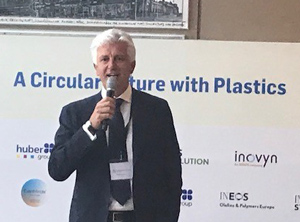 EuPC president Renato Zelcher seeks strengthened collaboration with PlasticsEurope (Photo: PIE)
The "very negative global image of plastics and plastic waste in particular" is a major challenge confronting the entire industry, said EuPC president
Renato Zelcher
in his opening speech at the conference, which was titled "A Circular Future with Plastics". Furthermore, the EU's single-use plastics directive (see Plasteurope.com of
23.05.2019
), a possible plastics tax, minimum requirements concerning the use of recyclate and the trade dispute with the US, including the threat of duties on polymer imports (see Plasteurope.com of
24.05.2019
), were all causing problems for processors.
The plastic packaging industry could in many cases offer the best ecological solutions, "but we cannot do this alone," said
Roland Straßburger
, president of Germany's plastic packaging association,
Industrievereinigung Kunststoffverpackungen
(IK, Bad Homburg;
www.kunststoffverpackungen.de
), which co-organised the event. No government in the world could achieve its climate targets without plastic, said Straßburger, referring to the low weight of packaging and the protection of foodstuffs (see Plasteurope.com interview of
31.10.2018
). This has, however, not yet become part of public perception. In July 2019, the association intends to publish its recently issued guideline on the ecological design of packaging in English.
Producers, too, certainly subscribe to the call for eco-friendly design. "Making plastics circular is the only choice we have," said PlasticsEurope president
Javier Constante
. Particularly on the matter of plastics waste, cooperation along the value chain must be strengthened, he said. Another priority is that the different national waste systems within the EU urgently need to be aligned. Furthermore, the entire industry must commit to "Zero Pellet Loss" in order to put an end to pollution of the seas, said Constante, and appealed to processors to join the initiative. Technical solutions such as chemical recycling must also be driven forward.
The next two speakers,
Tom Crotty
, corporate affairs director at
Ineos
(Rolle / Switzerland;
www.ineos.com
), and
Rudolf Wölfer
, head of Innovation Headquarter and Project Management Office at
Borealis
(Vienna / Austria;
www.borealisgroup.com
), also focused on ecological design, optimised waste management systems and the acceleration of new recycling technologies.
"Circular Plastics Alliance" identifies main areas of action
It is therefore not surprising that the "Circular Plastics Alliance", which was initiated by the
European Commission
and is made up of raw material producers and processors, waste disposal and recycling companies as well as brand owners and retailers, has also identified precisely these key topics. As reported by
Kirsi Ekroth-Manssila
, head of DG Grow at the EU commission, the issues of collection systems, eco-design, recyclate content, uniform standards for waste trading, and investment in R&D have been identified as particularly urgent tasks. A monitoring system, she said, was also needed.
Ekroth-Manssila is sure that EU citizens expect the commission to become active. She added that more than 70 companies have signed up to the Europe-wide voluntary commitment campaign to strengthen the market for recycled plastics, which was initiated as part of the EU plastics strategy (see Plasteurope.com of
15.03.2019
). However, the customer side was somewhat behind target.
EuPC general assembly elects steering committee
The EuPC general assembly elected
Benoît Hennaut
(
Aliaxis
),
Martin Hitchin
(
Rehau
),
Marc Cornu
(
Ampacet
),
Myriam Tryjefaczka
(
Tarkett
),
Claude Clement
(
Plastic Omnium
) and
Ton Emans
(
CeDo Recycling
) to the steering committee for the 2020-2023 period.
Tadeusz Nowicki
(
Ergis
) was also elected as a member up to 2021.
Also at the event, the "Best Polymer Producers Awards for Europe 2019" were presented. This was the fourth edition of the awards for the best European plastics suppliers in the initiative
Polymers for Europe Alliance
(
www.polymercomplyeurope.eu/pce-services/polymers-europe-alliance
– see Plasteurope.com of
18.06.2019
).
05.07.2019 Plasteurope.com [242749-0]
Published on 05.07.2019