EDITORIAL
The participants at the "European Youth Debating Competition" are well ahead of some adults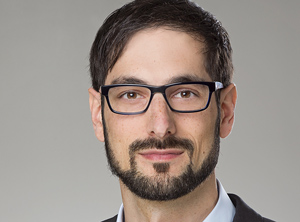 David Löh (Photo: PIE)
What could a future with plastics and petrochemicals look like? This was the question posed by the organisers of the German final of the "European Youth Debating Competition" (EYDC;
www.eydc.eu
), namely
PlasticsEurope
and the
European Petrochemical Association
(EPCA). The answers given by the 52 teenagers from all over Germany were much more varied and solution-oriented than I would have expected from 16-19 year olds.
That was the case despite the fact that the participants had to divide themselves into two groups – a pro group and a contra group. It was therefore expected that this would automatically lead to deliberately opposing positions and thus result in a blanket, all-or-nothing argument. But that was certainly not the case. What these young people actually delivered should make many of those discussing the issue on "social" networks blush with shame because, in contrast to them, the participants at the EYDC did not waste time with unnecessary discussions about the actual or apparent state of the climate and groundwater, but sought solutions – on both sides.
The pro fraction (future with petrochemicals) proved that it is certainly possible to believe in the future relevance of plastic without calling climate change into question. The benefits in matters of driving safety (airbag, safety belt), efficiency (PET bottles, carrier bags) and durability (windows, garden furniture) are also good arguments where sustainable solutions are concerned.
The contra side of the debate was not dominated by subjects such as "ban the plastic bag" and "no plastic film for organic cucumbers". Instead, the petrochemical sceptics searched for ways that led away from the dependence on crude oil. They were certainly also well informed when it came to topics such as recycling and bio-based plastics, but they also criticised thoughtless consumption.
Precisely because everyone was in agreement that "staying as we are" is not an option, the arguments were sometimes so close together that the speaker could also easily have been standing on the other side of the fence. This is by no means a sign of arbitrary or shallow debate. Instead, the participants showed that the solution must lie somewhere between the two positions – and also that it can be reached by consensus. When I think about the public contributions by adults that have been published in online forums, "social" networks or on TV, I can only shake my head in disbelief. And, at the same time, I have regained some of my confidence that humans may perhaps eventually succeed in halting the destruction of our habitat. The participants at the EYDC proved at any rate that they and other young people certainly have the potential to do this.
David Löh
KI Group
Deputy Editor in Chief
22.05.2019 Plasteurope.com [242442-0]
Published on 22.05.2019