ECKART
Pigments use recycled and bio-based aluminium
Pigments supplier
Eckart
, a unit of German speciality chemicals group
Altana
(Wesel;
www.altana.com
) has launched the AL-II portfolio, which it said are based solely on recycled aluminium but still produce brilliant product solutions.
Four grades are suitable for plastics, the company noted, citing its Stapa WM Reflexal AL-II 214/80, Stapa WM Reflexal AL-II 2156/80, Mastersafe BCR AL-II 16-208, and Mastersafe BCR AL-II 34-208.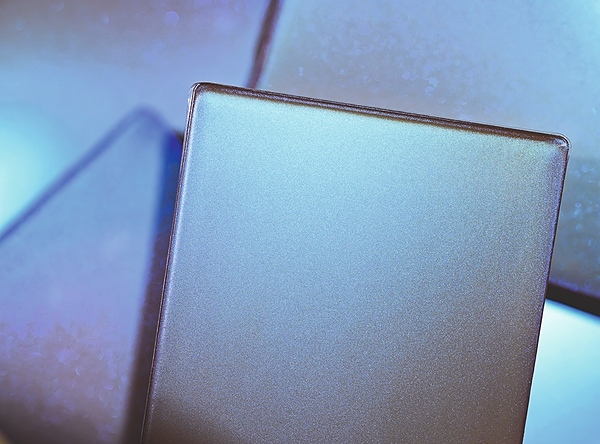 The company's Mastersafe grades in "Sahara Blue" (Photo: Eckart)


Eckart has also announced the launch of its Mastersafe BCR product line with bio-based aluminium pigments that cut the product's carbon footprint in half. Two of the materials contain pigments based on recycled aluminium. In total, the product line consists of six silver dollar preparations with different particle sizes and two cornflake types.

The materials are said to be suited for food packaging and compatible with a broad range of polymer systems, including LDPE, HDPE, ABS, polypropylene, polystyrene, polyamides, and other engineering resins. Delivered as pellets, Mastersafe BCR guarantees a clean, safe, and dust-free handling and metering, the company noted.

Eckart has also unveiled the near-infrared (NIR) Silver product specially tailored so plastics can easily be identified and sorted during automated plastics recycling. The pigments, produce varying metallic effects and reflect essential wavelength fingerprints required to identify the polymeric system, the company said. As a result, they allow for rapid and non-destructive analysis for sorting post-consumer PET, HDPE, PP, and PS, Eckart added.
31.03.2023 Plasteurope.com [251381-0]
Published on 31.03.2023